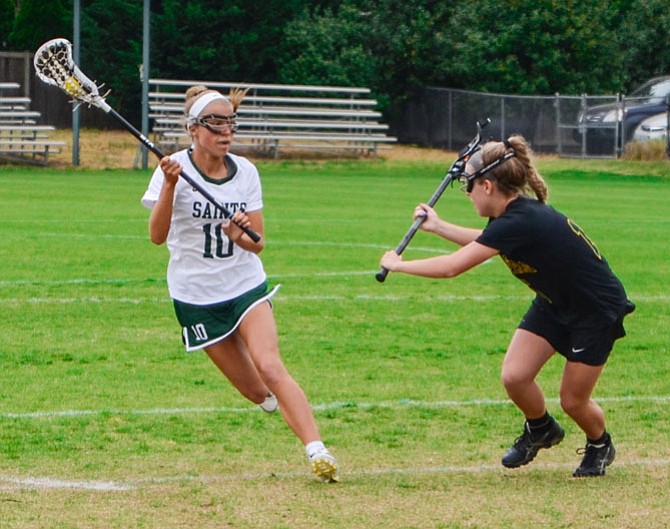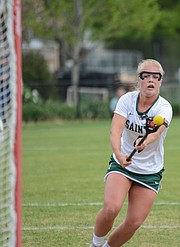 It took 37 seconds for Ellie Carson to score a goal, with an assist from Zoe Belodeau, and give the St. Stephen's & St. Agnes girls' lacrosse team a 1-0 lead against Collegiate on April 22. Less than a minute later, Belodeau was on the receiving end of a Carson pass and found the back of the net for a 2-0 Saints advantage.
By the end of the first half, six different Saints had scored at least one goal and St. Stephen's led 10-1.
It was business as usual for the Saints during this Friday home game. St. Stephen's built a 10-goal advantage early in the second half, triggering a running clock, and cruised to a 14-4 victory over Collegiate.
The Saints are once again one of the top teams in the nation, ranked No. 5 in the latest Nike/Lacrosse Magazine national poll. Friday's victory improved their record to 14-1, with their only defeat coming against No. 4 Good Counsel on April 2.
In the last decade, St. Stephen's never lost more than three games in a season. From 2007 to 2013, the Saints won seven consecutive VISAA Division I state championships. Head coach Kathy Jenkins is the all-time leader in career victories for high school girls' lacrosse, surpassing 700 this season.
While St. Stephen's has an impressive resume and appears on its way to another successful season, the team's inability to beat fellow Alexandria private school Bishop Ireton in the state final each of the last two years has left the Saints with a lingering desire to finish the job.
Ireton defeated St. Stephen's for the first time ever in the 2014 state final, 9-7. Last year, the Saints entered the championship game with an undefeated record, but the Cardinals won a second straight title, 12-10.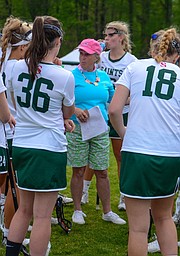 Bishop Ireton is ranked No. 6 in the nation and improved to 14-3 with a win over Bishop O'Connell on Tuesday. The Cardinals and Saints will not play during the regular season, but could meet again in the VISAA state final for a third straight year.
"Bishop Ireton is such a strong program every single year, so we are always keeping [the losses] in the back of our head," Carson said. "... Ever since those two games, we just always are ... thinking about Bishop Ireton in the back of our head, sort of getting excited for that game. We think of all of our big games as preparation for that."
Carson, a senior attacker who will play for Dartmouth, finished with two goals and an assist against Collegiate on Friday. Sophomore attacker Grayson Offutt had four goals and one assist, Belodeau totaled three goals and two assists and freshman midfielder Briana Lantuh scored two goals.
Junior attacker Lea Cox had one goal and four assists, and sophomore attacker Annie Dyson and junior midfielder Caroline Wiseman each scored one goal.
Senior goalkeeper Molly Dougherty had four saves.
"This season, we've definitely taken it game by game," said Belodeau, a Penn commit, "but [the losses to Ireton are] always in the back of our head. We're always working for that. We're just really excited this year to get another shot at it. This team, this is a great team. It's different this year because I think we have seven attackers that ... have had the same amount of goals, we have seven great defenders, we have subs ... so I just think we're just really, really excited to get the opportunity to prove ourselves again this year."
One game that could help St. Stephen's come playoff time is its loss to Good Counsel. The Saints entered the game with a 6-0 record, having beaten each opponent by more than 10 goals. They came out of it with their first loss and a better idea of how to handle pressure.
"By having a hard game like that early in the season that we did end up losing, it was actually beneficial to us in the long run, I think," Carson said, "because then [during] our harder games for the rest of the season, we think about that game and think about how we didn't come back and come out strong in the second half like we needed to ..."
Belodeau said the loss was a reminder to keep working.
"It's really good for us to see that we are beatable," she said, "so we have to ... work hard every minute of the game."
St. Stephen's improved to 15-1 this season with a 16-2 road win over Bullis on Tuesday. The Saints will travel to face Flint Hill at 4:15 p.m. on Thursday, April 28.
The ISL AA tournament final is scheduled for May 16 at Stone Ridge School in Bethesda, Md. The VISAA state final is scheduled for May 21 at the University of Richmond.
"I would love to be back on top of it," Jenkins said about the Saints' meetings with Bishop Ireton, "but I think we have to continue preparing ourselves for it because they're an excellent team, they have a lot of speed, too, they play a great defensive game. We know that we're working toward that in every game we play."