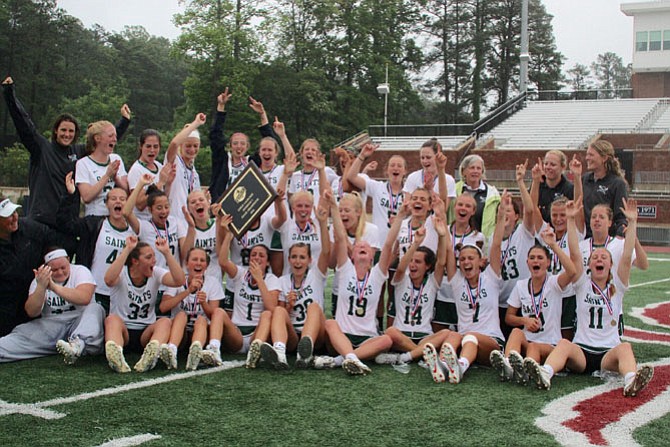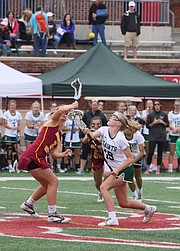 Molly Dougherty was a sophomore goalie on the St. Stephen's & St. Agnes JV lacrosse team in 2014 when the varsity squad lost to Alexandria foe Bishop Ireton for the first time in program history. Ireton, which had recently captured its first-ever WCAC title, beat St. Stephen's 9-7 in the VISAA state championship game.
The following year, Dougherty didn't play due to injury. The Saints had another stellar season, winning their first 28 games, but St. Stephen's once again lost to the Cardinals in the state final, 12-10.
While Dougherty wasn't on the field for either loss, she felt the effects as a member of a program that isn't used to coming out on the wrong end of a final score.
On Saturday, five days after capturing yet another ISL AA title, St. Stephen's & St. Agnes got another shot at Bishop Ireton and the Saints regained their place atop the Alexandria rivalry.
St. Stephen's & St. Agnes defeated Bishop Ireton 12-5 on May 21 in the VISAA Division I state championship game at the University of Richmond. In a matchup of two of the top teams in the country, the Saints pulled away in the second half, building on a 5-3 halftime advantage with four consecutive goals.
St. Stephen's finished the season with a 25-1 record and closed the year with a 19-game win streak, including its first win over Ireton since trouncing the Cardinals 16-1 in the 2013 season opener.
"It's a sour taste when you lose," Dougherty said. "Losing the past two years, that kind of gets passed down the program to the JV players coming up in the ranks to know we've got to beat BI. This year, to put our foot down on a kind of crummy, rainy day and to say this is ours is something that's amazing."
Dougherty and the St. Stephen's defense held Ireton to a season-low goal total. The Cardinals entered the game averaging more than 14 per contest but were held to just five on Saturday. Ireton labored through a 19-minute, 11-second scoring drought while the Saints' lead grew from 4-3 in the first half to 9-3 in the second.
Dougherty, who will play for James Madison University, finished with seven saves.
"We know [Ireton has] a very strong attack," St. Stephen's head coach Kathy Jenkins said. "With Kelly Larkin and Lexi [Ledoyen] and Madison Mote, Kayla Duperrouzel, they're all dangerous. We gave them marks, but we said you're going to have to help each other because they can all score. ... We've been working hard all season on our defense and I think that's what's done the job when we played, like, Summit (N.J.), and Episcopal (Pa.) and Visitation both times. Our defense has really been so successful that it carries over onto the attack because then the attack is excited because the defense got them the ball."
Larkin scored four goals for Ireton and Ledoyen had one. Mote had an assist.
Offensively, seven different Saints scored at least one goal. Elena Ricci and Annie Dyson each finished with three for St. Stephen's. Grayson Offutt scored two goals, and Zoe Belodeau, Ellie Carson, Anna Pusey and Caroline Wiseman each netted one.
"We have seven or eight girls that can really score, so we're not too worried about [opponents focusing on shutting down certain Saints]," Jenkins said, "because we know if they take out someone, someone else will step up."
Carson had two assists for the Saints, and Belodeau and Wiseman each had one.
"We don't really focus who's on top (of the St. Stephen's/Ireton rivalry), but we all came out with the mindset that we wanted to beat them," Carson said. "We were thinking about how strong of a team they were — we studied film, we took notes. They're such a strong team, so to have beaten them just shows how well we played."
St. Stephen's & St. Agnes finished the season ranked No. 3 in the nation in the latest version of the Nike/Lacrosse Magazine top 25 poll. Bishop Ireton, which won its second WCAC championship in three years and finished the season with a 20-4 record, was ranked No. 4.
"It wasn't even about just beating BI, it was just winning ... our last game all together," Carson, a senior, said. "... Just to go out on the best game that I've ever played in in my life, on the best team I've ever been on in my life is the best thing I could ever ask for. It was so much better than I ever expected."