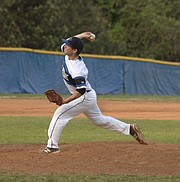 After transferring from Edison High School, Brandon Floyd never really felt comfortable during his junior season with the West Potomac baseball team.
Joining a program that reached the Conference 7 championship game and nearly knocked off Madison in the second round of regionals the year before, Floyd wanted to prove that he belonged with the Wolverines. He ended up trying to do too much and struggled during the 2015 campaign.
One year later, after an offseason of hard work, Floyd is having a stellar senior season at the plate and on the mound. No. 14 continued his high level of play Tuesday night, throwing four shutout innings and hitting a home run during a 10-0, five-inning victory over Mount Vernon at West Potomac High School.
Floyd earned the win, allowing four hits while striking out five before giving way to Gus Leyden, who pitched a perfect fifth inning.
At the plate, Floyd went 1-for-1 with a home run, a sacrifice fly and two RBIs. He also reached via base on balls.
"I was just trying to show that I can play with these guys," Floyd said about his junior season. "I think I did try to prove myself a lot and that's why I probably didn't have the best season. This year, I'm just confident because I know I can do it with all the hard work in the offseason."
Floyd's home run, an opposite-field solo shot in the bottom of the second inning, was his fourth of the season.
"I'm not sure he ever [got comfortable] last year," West Potomac head coach Jim Sullivan said. "... I think he kind of views himself as one of the leaders now and has proven it on the field. ... He wanted to really come in and prove himself last year and he struggled a bit with the bat. ... This year, he's hitting .400 or over .400."
Floyd wasn't the only Wolverine to play well Tuesday.
With West Potomac leading 1-0, Mount Vernon had runners at the corners with two outs in the top of the third when Dawson Summa hit a sharp grounder to the right side of the infield. West Potomac second baseman Andrew Maloney dove to his left, fielded the ball and threw to first for the out, saving a run.
"It just makes me feel like I can throw anything and if they hit it, I know that they're going to be there to back it up," Floyd said. "Andrew made a great play. I was pumped when he made that play. That saved a run. Who knows? If he misses it, they score and the next guy [might hit] one in the gap."
West Potomac scored five runs in the third and four in the fourth.
West Potomac sophomore Sam Meyer went 2-for-2 at the plate with three RBIs. His two-run single in the third gave the Wolverines a 5-0 lead.
Meyer, along with sophomore Liam McClanahan and freshman Jimmy Curley were called up from the junior varsity during the season and have been productive additions.
"Definitely trying to prove myself every time I come out here," Meyer said. "It's just a great experience. It's a big jump from JV to varsity."
Patrick Aitken went 2-for-3 with a double and an RBI for West Potomac. Daniel Jimenez finished 1-for-2 with a double and two RBIs.
The win improved West Potomac's record to 10-8 overall and 7-5 in the conference. The Wolverines have won three of their last four. The loss was a 4-3 defeat at Lake Braddock on April 29.
"I don't think they were disappointed with the way they played at Braddock," Sullivan said. "Even though we lost, we had a lot of opportunities. We could have won that game. What we told them was they've now played four very good games in a row. I think we're peaking at the right time for a change.
Losing to Lake Braddock at their place by one run [is] nothing to be ashamed of."
West Potomac is scheduled to host Annandale at 6:30 p.m. on Friday, May 6. The Wolverines will travel to face South County at 6:30 p.m. on Tuesday, May 10.
"We're playing the best baseball we've been playing all season, that's for sure," Maloney said. "This is the time to get hot."