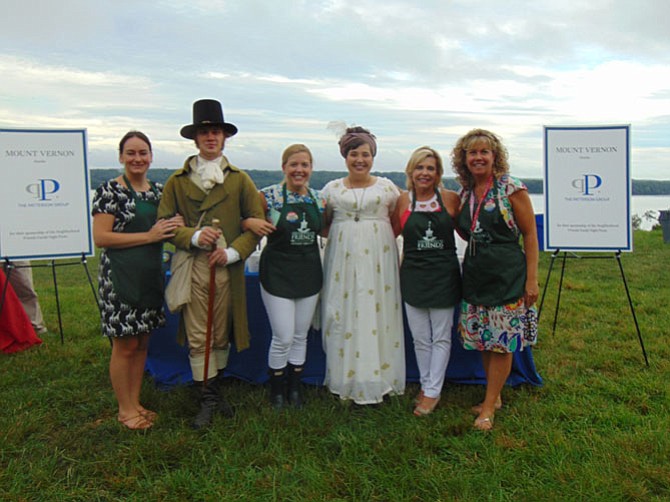 Mount Vernon's Neighborhood Friends Picnic attracted hundreds of neighborhood friends and contributing members who live within the original five-farm estate of President George Washington. The Aug. 21 event was held on the Bowling Green portion of George Washington's Estate.
"We found early American farm equipment on our property," said life-long resident Bill Russ, a Mount Vernon area coach and community activist, while hosting several of his neighbors with his mother, a longstanding member of the Friends of George Washington, Dorothy Russ.
Asked why they were contributing as members for many years to the Mount Vernon Ladies Association (MVLA), their one repeated word was to promote "community."
Other picnic invitees who attended had similar sentiments — support for history, etc. — and are viewed by the MVLA as an important part of George Washington's Mount Vernon constituency and source of sustained financial support.
Carolina Camargo, Mount Vernon's director of advancement, said that over the past, more than a decade, the local friends have donated an average of approximately $350,000. Annually. Mount Vernon also receives local business sponsorship and several were present this past weekend. The rainy and threatening weather reduced the normally heavy turnout for the popular annual event. But still it was estimated there were more than 800 attendees, not counting the firefighters, musical entertainers, event volunteers, and support staff.
The designated five historic George Washington Farms, on which the Friends live, are: River, Union, Mansion House, Dogue Run, and Muddy Hole farms that made up 8,000 acres of the George Washington estate. A map of the five farms is available online through the Mount Vernon website. The Mount Vernon estate and its programs are supported entirely through private contributions.
The annual picnic thanking and honoring the friends of George Washington has been going on since the year 2000 to support essential functions such as: Greenhouse roofing, reforestation, the seawall and spinning house, gardeners house, constructing and endowing the blacksmith house, restoring the Greenhouse slave quarters, among other needs. This year the Friends were asked to contribute toward upgrading the fire suppression equipment to preserve and protect the historic Mansion and other buildings.

FRIENDS PROJECT
George Washington's Neighborhood Friends sponsored project this year is to raise money to finance the purchase of fire suppression equipment to preserve and protect the historic buildings on the Estate Grounds. According to a recent statement prepared from George Washington's Mount Vernon Estate:
"Fire is one of the timeless and ongoing threats to the Mansion. … In December, 1740 George Washington's family home in Fredericksburg, Va. was damaged on Christmas eve by fire and, the family, including his parents and four younger siblings, were forced to spend the holiday in the detached kitchen. This incident made George Washington keenly aware of the devastation of fire at an early age of only 8 years old. Even after the Ladies Association purchased the estate they relied on only water to quell fires on the grounds of the Mansion. In 1923 , Henry Ford changed water suppression forever with the donation of a fire truck, and later in 1936 he gifted a more sophisticated truck. This launched the operation of a fire department on the grounds of the estate, which for many years was our primary method of fire suppression. ... Employees now live and monitor the buildings and grounds round the clock, and are trained in operating existing fire suppression equipment as first responders. … With the donations for the new equipment the new system will be very effective in reducing the impact of both fire and water damage. … The high pressure water mist system creates a fine mist of extremely small droplets, using less water than traditional sprinkler systems with equal or better performance. ... It is vital to install this state of the art system as soon as possible to protect the innumerable priceless artifacts in the Mansion and of course, the treasured home of George Washington."
Contact:
Tammy Eddy
Manager, MVLA
703-799-5075
www.MountVernon.org