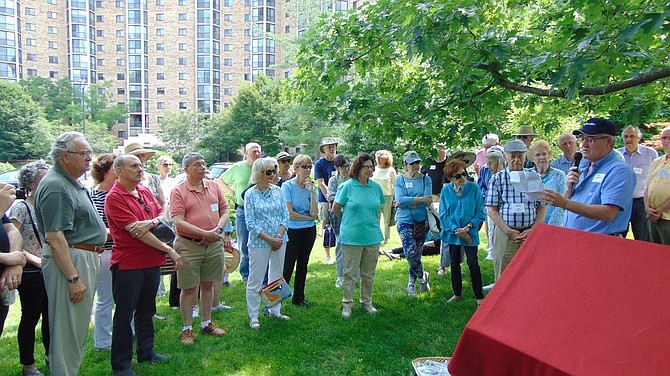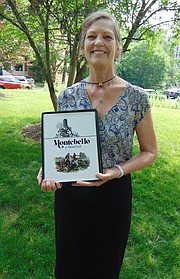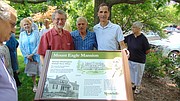 A historical marker commemorating the Mount Eagle Mansion was unveiled on Saturday, June 1, where the present-day Montebello Condominium exists along Route 1 in Alexandria. Bryan Fairfax, the 8th Lord Fairfax, who was a lifelong friend of George Washington, lived there from 1790 to 1802. He owned 229 acres when he originally built the house, and had between 10-12 slaves. The mansion faced North Kings Highway, the main street back in the day.
At the ceremony in front of 50 people, Paul Zeisset served as the master of ceremonies, and introduced Historian Jay Roberts and Chuck Amorosino, who did the unveiling and donated the $2,100 to build the sign. Zeisset is also on the Montebello Grounds Committee.
"Bryan Fairfax and George Washington were life-long friends and Washington would come here to Mount Eagle and have a meal with Bryan," according to Roberts, who wrote the book, "Lost Alexandria, An Illustrated History of 16 Destroyed Historic Homes in and Around Alexandria, Virginia." It's documented that the two friends wrote 200 letters of correspondence in 41 years, he said.
Roberts, a retired Air Force inventory manager, continued: "Mount Eagle was here overlooking Alexandria and the Potomac River, so all through the 1800s until 1969, it was a landmark. If you were travelling the roads, if you knew your history, you could say there's Mount Eagle." He wrote that a 1930 tourist book of the region listed Mount Eagle Mansion as the No. 1 attraction other than Alexandria and Mount Vernon because of its connection with George Washington, who passed by this point many times.
Mount Vernon District Supervisor Dan Storck gave a plaque in honor of the Montebello Community Association during the unveiling. "For those of you who know me, I'm a huge history buff. I've had my Lincoln beard for many years…. What you're doing today is so critical. Much of this is lost when it doesn't get captured by Paul (Zeisset) and many others. We can't lose our connections to our past. It's just too important…. I am pleased at how you are honoring that history today," said Storck.
Bryan Fairfax died in 1802 and his heirs kept property until 1825. Through the years, there were a succession of owners, including Courtland Johnson during the Civil War. Fast forward to 1918, when then-owner Edwin Morse, a ship builder, remodeled the house, and expanded it by adding two more wings and a second floor.
In 1936, the property became the Lord Fairfax Country Club for a few short years, most famous for its slot machines. But that venture failed when gambling was outlawed in Fairfax County. In 1941, the property was bought by Dr. Carson Fifer, chief of surgery at Fairfax Hospital, the last permanent owner of the mansion itself. He lived there for 24 years, did some farming, and raised his family who would have large parties on the property.
By 1966, the Mount Eagle property was becoming prime real estate ready for development. Fifer decided to find a developer and sold it to the Winston Virginia Corp. By 1968, the house started to deteriorate, and was turned over to the fire department who burned it down for practice.
In 1970, Metro came along and took the western third of property for use as parking lots and the future Huntington Station. They sold off two areas for development and turned it over to Fairfax County to create Mount Eagle Park.
In 1979, International Developers, Inc. and developer Giuseppe Cecchi (who built the Watergate) purchased the remaining 35 acres for construction of the luxury condominiums called Montebello (a.k.a. Beautiful Mountain); Building One started in 1980, with Building Four being completed in 1986.