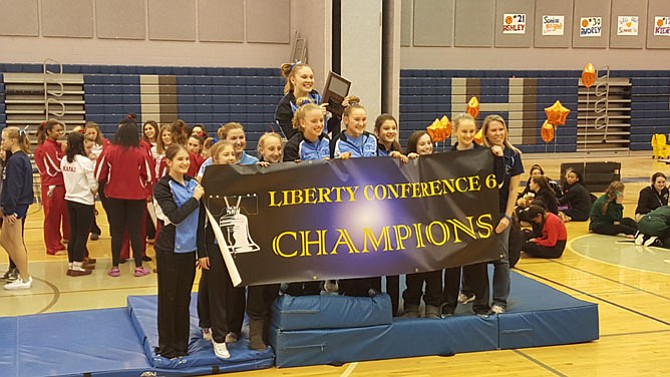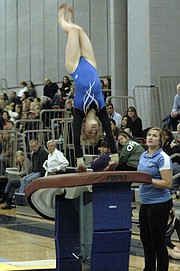 The Yorktown gymnastics team entered Friday's Conference 6 championship meet as the most talented and experienced team in the gym.
When it came time to compete, however, the pressure of being favored to win, along with memories of past disappointment, had the Patriots feeling nervous, rather than confident.
"When they started, they were super nervous," head coach Joanne Price said. "We just talked about it and tried to relax a little bit. ... They were feeling really nervous [before] vault. That was our lowest event today — that's usually a pretty easy event for us. ... I think the pressure got to them.
"... As much as we downplayed it, they were aware of being the favorite and I think it's hard to be in that spot, to not that let add pressure to what you're doing."
Yorktown gymnasts and coaches talked about the pressure and decided to let it go — to enjoy the meet, regardless of the outcome. While easier said than done, the Patriots would settle down and take care of business.
After finishing behind perennial powers McLean and Washington-Lee each of the last two seasons, Yorktown finally broke through, winning the conference championship and earning a regional berth on Feb. 5 at Washington-Lee High School.
Despite being one of the more talented teams in the area the last two years, Yorktown failed to earn a regional berth due primarily to the quality of the teams in its conference. Despite competitive scores, the Patriots twice finished behind McLean and W-L at the conference meet, with only the top two teams from each conference earning a spot at regionals.
In 2014, W-L went on to win its third consecutive region championship, and McLean finished region and state runner-up. In 2015, McLean went on to win region and state championships.
This year, it was Yorktown snapping McLean's streak of four consecutive Liberty District/Conference 6 championships with a season-best score of 146.225. McLean finished runner­up with a score of 139.6, earning the conference's other regional berth.
"It feels really good to be on this end of it because we've fallen short just barely the last couple years," Price said. "It's been a long time coming for the girls who have been on the team awhile."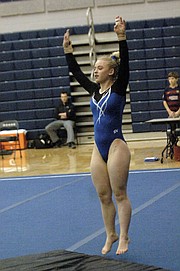 Juniors Juliette Mitrovich and Olivia Zavrel are two of Yorktown's most experienced gymnasts, with each competing for the Patriots since they were freshmen.
On Friday, both qualified for regionals in the all-around. Mitrovich placed fourth with a score of 36.375. Zavrel finished outside of the top four, but qualified for regionals with a score of 36.15. Gymnasts needed a score of 35 or better to earn a regional all-around berth.
Mitrovich placed third on bars (9.25), fourth on floor (9.3), tied for fourth on beam (9.025) and tied for ninth on vault (8.8).
"It was a little nerve-wracking," Mitrovich said, "but our coaches just told us just focus on yourselves and if you keep doing what you've been doing then it's all going to work out."
Yorktown freshman Julia Hays finished runner-up in the all-around with a score of 37.45. She won conference titles on beam (9.85) and floor (9.65), and placed sixth on vault (9.125) and bars (8.825).
Yorktown sophomore Marisa Daugherty also qualified for regionals in the all-around, producing a score of 36.25.
"Marisa Daugherty ... had probably [her] best meet of the season by far," Price said. "She was rock solid."
Hayfield senior Molly Overstreet won the all-around title with a score of 37.875.
The 6A North region meet is scheduled for Saturday, Feb. 13 at Patriot High School.