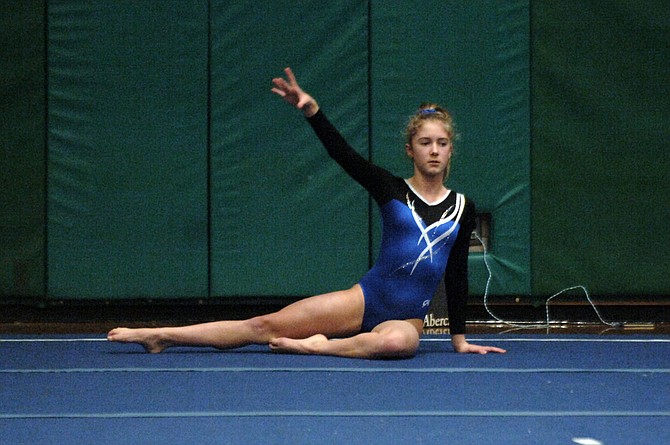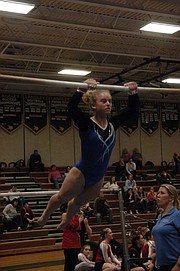 The Yorktown Patriots were arguably one of the top three gymnastics teams in the 6A North region last year, but fell victim to the tremendous competitiveness of Conference 6.
Yorktown placed third behind McLean and Washington-Lee at the 2015 Conference 6 meet despite a score (141) that would have resulted in a first-place finish in other conferences. With only the top two teams earning a regional berth, Yorktown had to settle for individual representation at the 6A North meet. Meanwhile, McLean, which won its fourth consecutive conference/district championships, went on to win region and state titles. W-L placed third at the region meet, snapping its streak of three consecutive championships.
Ten months later, Yorktown is considered a contender for the 2015-16 season. With the return of talented juniors Juliette Mitrovich and Oliva Zavrel, and the addition of freshman Julia Hays, the Patriots have their sights set on a regional berth and potentially a trip to the state meet.
"They're hopeful, but we're trying not to get ahead of ourselves, because we've been hopeful before and have fallen a little short," Yorktown head coach Joanne Price said. "We are trying to just take it one practice at a time, one meet at a time. We don't talk a lot about where we're going to end up in the conference or in the region, we talk more about where we want to end up individually and as a team score.
"... We keep hearing that from other coaches ... that we're the ones to watch, but ... it's scary to go in with that mindset."
On Monday night, Yorktown won a five-team meet at Langley High School. The Patriots finished with a score of 136.925, followed by Washington-Lee (129.175), South Lakes (120.325), Langley (109.4) and Madison (100.25).
Yorktown produced the top three finishers in the all-around competition: Hays (35.025), Mitrovich (34.825) and Zavrel (33.825).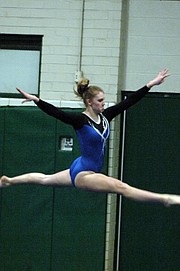 Mitrovich, a level 9 club gymnast at Arlington Aerials, has focused on adapting her routines to meet high school gymnastics requirements in order to improve her scores. Mitrovich was all-state on beam and bars as a sophomore.
"Juliette has gotten really confident and she is really willing to do the high school requirements versus her club requirements," Price said. "... The first year or two she was a little apprehensive about changing stuff around or going for it. She's got her head in the game and she's willing to go for it to make sure she gets the 10-star value."
Zavrel, a level 8 gymnast at Arlington Aerials, also competed at last year's state meet.
"Olivia has gotten really strong as far as her dance on floor," Price said. "She has become very consistent on beam and bars, as well. She's s a solid competitor."
Zavrel stands 5 feet 10, which is considered tall for a gymnast.
"Most events it's actually not that bad, except for bars," Zavrel said. "I have my own ... height settings and I have to be very careful about touching the ground sometimes."
The addition of Hays, a level 9 club gymnast, helps fill the void created by the departure of sophomore Bella Kane, a 2015 state qualifier in the all-around, who decided to focus on club gymnastics rather than compete for Yorktown.
Price said freshman Courtney Frisk and sophomore Marisa Daugherty are also expected to be key contributors.
Yorktown will compete at a meet at Oakton High School on Jan. 9. The Conference 6 meet is scheduled for Friday, Feb. 5 at Washington-Lee High School and the 6A North region meet is scheduled for Saturday, Feb. 13 at Patriot High School.
"I don't want to get too ahead of ourselves because anything can happen — someone could have a really good day and we could have a terrible day," Mitrovich said, "but I think this is a good year for us and we can go really far."