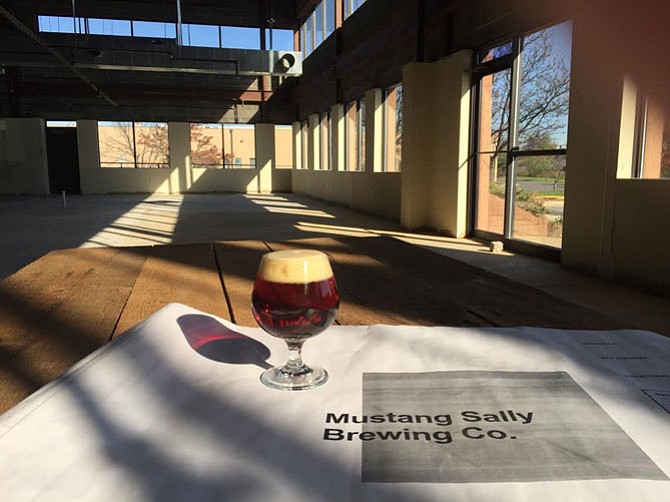 Opening a brewery, a place for a community to come together and bond over cold glasses of craft beer, was the post-graduate dream of Fairfax County business owner Sean Hunt. Twenty-five years ago, a fresh out-of-college Hunt and his equally green work buddy talked about starting and running a welcoming place in Fairfax County where locals could swing by and enjoy a high-quality, reliably tasty beer or two.

Now, a little older and wiser, Hunt is on the brink of launching Fairfax County's second production brewery in Chantilly. The Mustang Sally Brewing Company is set to open for business by the end of February of this year.
"This is my first brewery," Hunt said. "I've been wanting to do this since I was right out of the University of Virginia, as an engineer at Booz Allen Hamilton. Another engineer and I talked about opening up a brewery, banged the ground for a few months, but then it went away. The name comes from the same era, when I was also working on a boat called 'Mustang Sally.' That boat, 'Mustang Sally,' is a memory of being carefree and not having a lot of worries. This is a dream that started up 25 years ago and is finally coming to fruition.'"
Hunt's passion for beer blossomed while living in Germany for a few years before college, where he came to appreciate both beer and the communal aspect that can surround it. Although toying with the idea of starting a brewery for more than half his life, Hunt said he finally left his corporate career as a transactional attorney in 2014 to pursue his Mustang Sally dream.
"My wife has an engineering company called iPower, and every so often over the years, I would say, 'hey, I want to start something myself,' but we always came to the conclusion that one startup company was enough for a family. So finally, we were talking about it again at the beginning of last summer, and she said, 'Go ahead.'"
Hunt's strategy for Mustang Sally, from the financing to the menu, remains the same: keep things simple.
"Our corporate foundation is to keep it really simple," Hunt said. "It's just me doing this. It's pure commercial financing, so no private equity financing. I did it this way because private investors can distract you. Private investors tend to be looking for an exit plan and I have a very long outlook for Mustang Sally."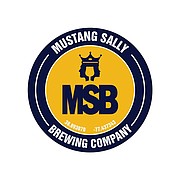 While Mustang Sally is still under construction, Hunt has found a core team to ensure that when the building is done, a variety of high-quality brews will be ready for the masses.
He hired his head brewer, Bret Kimbrough, over a year ago from Leesburg's Vintage 50. And, while he promises there are no beer snobs, his team is not lacking in brewing experience or credentials.
Kimbrough, a graduate of the American Brewers Guild and the Culinary Institute of America, has been professionally brewing beer since 1996. Even when he was a career chef, he said he still made a point to incorporate beer in his recipes.
While paint might not be on the walls yet and tables and chairs haven't been set up, Kimbrough has been brewing a number of pilot beers over the last year, from light beers to Indian Pale Ales (IPAs), carefully recording every recipe in intricate detail, down to the temperature of the room where the process takes place. Depending on the type of beer, it can take up to six weeks before one is ready.
"Mustang Sally beer will be brewed using a 30-barrel brew house," Kimbrough said. "That's the equivalent of 60 kegs at a time. Right now, we are doing pilot brews so that everything we present to customers will be tried and true recipes. Among the beers that we are testing are Radlers [a type of beer mixed with lemonade]. I am currently brewing an IPA though."
The production process for ales is anywhere from 10-21 days, and brewing lagers takes five to six weeks, he added.
Most breweries, Hunt explained, are either brewpubs or nanobreweries. Where brewpubs offer home-brewed beer, other beers, and a variety of food, nanobreweries are smaller establishments with limited to a few signature beers at a time. As a pure production brewery, Mustang Sally will be a bigger brewery focused on its beer. Its dining menu will be simple, offering foods that pair well with the beers on tap.
"We have 14,400 square feet here," Hunt said of his gaping space. "It's a production brewery. With that said, we are going to devote a huge portion of our space to a really big, fun tasting room."
The tasting room will function both as a place for customers to enjoy themselves but also a welcoming place for them give feedback on all the beers they try.
Hunt said Mustang Sally will ultimately have a dozen beers on tap, but in the spirit of only serving the best, it will open with just four or five selections. The team is still in the process of finalizing the handful of winners for opening day.

"The three of us on the core team feel like we have a good idea of what the initial lineup will be," Hunt said. "We want the community to tell us what they want. What we want to do with that tasting room is put a collaborative process in place to get a real, true understanding of what the community wants and is looking for when they come here. This is ultimately how we will commit to flagship beers."
The long-term goal is for a third of the beers on tap to be flagship beers, a third to be what the Mustang Sally team considers soon-to-be flagships, and for the last third to be pilot brews.
Both Hunt and Kimbrough said their prime focus is on quality assurance. Mustang Sally will even have a lab onsite to maintain beer samples, and ensure that every type of beer can be replicated down to every last hop.
"Recordkeeping in brewing is extremely rigorous and detail-oriented," Kimbrough reiterated. "It is the base of the quality assurance. Any changes that happen as the beer is being made — a 10-minute power outage, for example — down to the letter, it is tracked."
Beer-brewing is both a science and an art, and Mustang Sally won't ignore either aspect. Kimbrough and the brewing team will always have creative freedom to come up with new, daring samples.
"We are going to put effort into the technical aspect of the beer," Hunt said. "Still, we never want to lose that artistic side, which is why we will devote the last third of the taps to experimental brews. We want to have fun with it. It's not a dull industry and it shouldn't be."
Mustang Sally Brewing Company will host the Fairfax County Brew Fest at the end of April. Major breweries have already committed to being there, and every brewhouse in the county was invited. Hosting the event, which is open to the public, is another move toward keeping the local brewing industry all-inclusive.

"It would be nice if we stay collaborative instead of competitive," Hunt said. "Right now it's really young and it's a great culture."
At the core of the brewing industry, and Mustang Sally, is respect for beer and for other people who have a passion for it.
"At the end of the day we see ourselves as a classic American brewery with a commitment to doing things right," Hunt said. "Experts always say, never start a business without an exit plan, and I sit here, making that fatal flaw. I don't want an exit plan."