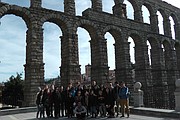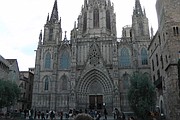 From Feb. 3—9, members of the Langley High School orchestras (Freshman, Sinfonietta, Symphonic and Philharmonic) traveled to Spain, where they performed two concerts and toured the cities of Madrid, Segovia and Barcelona. The first performance was in the stunning Spanish cathedral Basílica de San Francisco El Grande, where the orchestras received a standing ovation from their sold out audience after playing pieces such as Enrique Granados's "Spanish Dance Op. 37, No. 5-Andaluza," Albeniz's "Suite Espanola No. 1, Op. 47 Asturias" and "Bailes Para Orquesta" by Richard Meyer. A community center hosted the second performance, where the orchestra followed a Spanish college orchestra.
"One of the most memorable experiences occurred after our second performance," Langley Symphonic violist Minh Pham said. "We had just shared the stage with a community orchestra from Spain, consisting of people around our age. Afterward, we all went for dinner at the same restaurant. There was a moment after we all finished eating where the Spanish musicians and the American musicians exchanged dances and songs attributed to our country. It was a great time."
When the students weren't rehearsing their music or performing, the Langley students took a city tour of Madrid, shopped at local stores and markets and visited the Prado Museum, which is the main Spanish national art museum. The museum displays one of the world's finest collections of 12th- to early 19th-century European art. Madrid's famous Buen Retiro Park and popular Café Chocolatería San Gines were also on the itinerary, where the students devoured the café's famous churros con chocolate. A side trip to Segovia, a historic city just outside of Madrid, featured a tour of the historic Alcázar, a royal castle dating back to the 12th century, stunningly sited above the junction of two rivers near the Guadarrama Mountains.
With their performance behind them, the Langley orchestras traveled to Barcelona prior to their return to Virginia. While in Barcelona, the students toured famed Spanish architect Gaudí's church Sagrada Família, Barcelona's Olympic Park and The Columbus Monument. The Langley Saxons also raved about Barcelona's breathtaking architecture, the colorful collection of items at the markets and the warm climate, which was a nice break from the freezing cold temperatures of Northern Virginia.

Langley Philharmonic violist Katherine Carris said, "From the rich culture to the unforgettable food, experiencing Barcelona with my orchestra was beyond incredible."