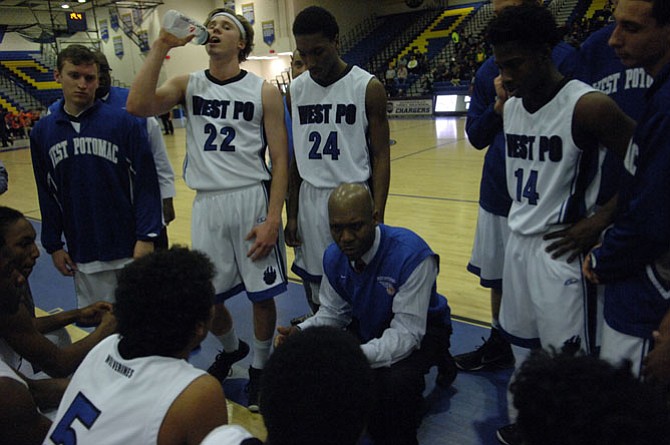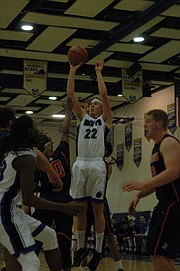 After winning six consecutive games and 15 of 17, the West Potomac boys' basketball team suffered back-to-back losses in the region tournament, falling to Battlefield in the semifinals and West Springfield in the third-place game.
As far as head coach David Houston III is concerned, however, the Wolverines are confident and ready to move on to states.
"I don't think it was much of a bump in the road," Houston said. "I think my kids played hard. ... They're still positive and confident in what we're doing."
West Potomac, the No. 4 seed from the 6A North region, will travel to Richmond to face 6A South champion Woodside (Newport News) in the state quarterfinals at 9 p.m. on Friday, March 4 at VCU. It will be the Wolverines' first state tournament appearance since 1998.
West Potomac won 10 of its final 12 regular season games and earned the No. 2 seed in the Conference 7 tournament. After saving their season with a come-from-behind victory against South County in the quarterfinals, the Wolverines beat Woodson in the semifinals and knocked off top seed West Springfield in the tournament final, capturing the program's first conference/district title since 2010.
West Potomac beat Patriot in the opening round of regionals, then earned a state berth with a 59-53 win against Robinson in the semifinals on Feb. 24. But the Wolverines' hopes for a region title ended when they lost to Battlefield in the semifinals, 82-70, on Feb. 26 at Robinson Secondary School. West Potomac led 45-44 when junior forward Da'Juan Bellfield scored on a putback with 3:25 remaining in the third quarter, but the Bobcats responded with a 22-4 run and took control of the contest.
Freshman guard Daryl Mackey Jr. led West Potomac with 21 points. Jamie Sara and Da'Jon Bellfield each had 14 points.
The following day, West Potomac lost to West Springfield, 63-60, in the third-place game. The Spartans never trailed and led by as many as 13 points. The Wolverines cut the Spartan lead to 54-51 when Mackey scored on a putback with 3:23 remaining, but West Potomac got no closer.
Sara led the Wolverines with 19 points. Khalil Williams Diggins, a first-team all-region selection, and Mackey each scored 11.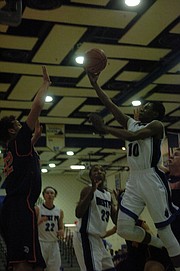 "After beating [West Springfield] twice, we came into the game knowing they were going try to get up early and play hard," Sara wrote in an email. "We [definitely] had more energy and were hitting more shots [in] the championship game. We're still a better team than them, that's why we have the banner, but they wanted that win on Saturday."
Now, West Potomac must find a way return to its winning ways.
"We have the same mindset going into the state tournament," Sara wrote. "Play hard, rebound, defense, and run. We have to go into that state game with our own energy, getting up early, and attacking the glass will be our [key to] success like it has been most of the year."
West Potomac (18-10) will face a Woodside team with a 19-5 record, according to maxpreps.com. Woodside defeated Oscar Smith in the Conference 2 and 6A South region championship games.
"Right now, our mindset is we've played with a lot of tough teams, especially in Conference 7," Da'Jon Bellfield said. "... [W]e weren't' able to take a night off. .... We've been playing [tough competition] every night since November. ... We can go down south and make some noise."
West Potomac experienced a four-game losing streak in December and closed the 2015 portion of it schedule by dropping five of six games, including its final two contests at the Wakefield holiday tournament. The Wolverines responded by opening 2016 with a five-game win streak.
Houston, who went to the state tournament as a player with West Springfield in 1991, will make his first appearance as a coach.
"My kids are resilient," he said. "We had a four-game losing streak in [December] and they didn't miss a beat in terms of listening to me and moving on to the next game."