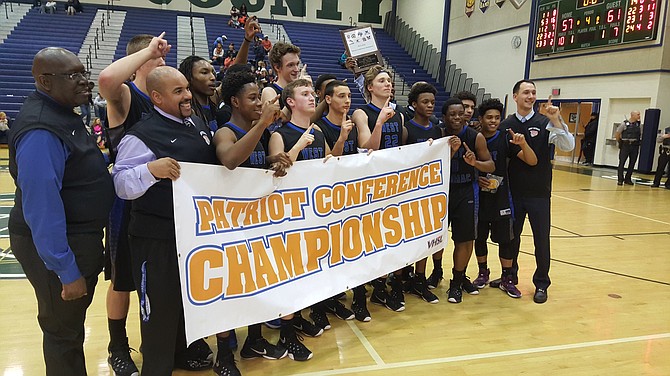 Shortly after his Wolverines defeated top seed West Springfield to win the Conference 7 championship on Sunday, West Potomac boys' basketball coach David Houston III climbed a ladder, cut down a net and later explained how his vision of a title started last season.
The early stages of the vision, however, weren't nearly as fun.
West Potomac finished the 2014-15 campaign with an 8-15 record, including 3-9 in the conference. The Wolverines' season ended with a loss to Lake Braddock in the opening round of the conference tournament. Players took their lumps, but non-seniors gained valuable experience for the future.
This season, the Wolverines are dishing out lumps rather than taking them. On Feb. 21, West Potomac earned its 13th win in its last 15 games, beating West Springfield 61-57 in the Conference 7 tournament final at South County High School.
West Potomac, the tournament's No. 2 seed, led by as many as 19, when a 3-pointer by freshman Daryl Mackey, Jr. gave the Wolverines a 32-13 advantage with 2:35 remaining in the second quarter. West Springfield battled back and pulled within two when an Andrew Johnson bucket cut the West Potomac lead to 59-57 with 58 seconds remaining in the fourth quarter. West Springfield had a chance to tie or take the lead, but the Spartans were called for an offensive foul.
Mackey made a pair of free throws, extending the Wolverines' lead to four with 19.4 seconds remaining, and West Potomac held on to win its first conference/district championship since 2010.
"We couldn't be here without the experience [of] playing last year and the only way to get the experience is to play," said Houston, who is in his 12th season as West Potomac head coach. "West Springfield, they beat us up last year, physically, just beat us up, so they were kind of our marker as to what we were looking for. They were a physical team. Lake Braddock was another team that physically just beat us up, so we knew we had to lift ... our conditioning had to be better, and I knew [some of] the kids were 15 years old last year, they just hadn't even started growing yet. I knew the guys that stuck it out, that didn't quit, that didn't transfer away, those guys would be the ones that could do it."
West Potomac guard Khalil Williams Diggins was a sophomore during last year's losing season. On Sunday, the first-team all-conference selection led the Wolverines with 19 points and earned tournament MVP honors.
"It feels great," Williams Diggins said about winning the title.
Senior forward Jamie Sara is another player who experienced West Potomac's rough 2014-15 season. On Sunday, the two-time second-team all-conference selection scored 11 points and grabbed five rebounds.
"We knew that feeling after we lost [in the] first round last year," Sara said, "that we didn't want to have that same feeling this year."
One player who wasn't with the Wolverines last season is Mackey, whose strong freshman season continued with a 17-point performance against the Spartans.
"It took me awhile to get used to playing on the varsity level," Mackey said, "but I'd say by midway my ... teammates got me into the flow and brought me in as a player."
Mackey knocked down a trio of 3-pointers during Sunday's game and made a pair of clutch free throws in the final minute.
"I don't think he understands [pressure] yet, so I think that's probably the best thing," Houston said. "He's just playing. I told him Friday night, 'Just relax and play. If you're open, shoot it. Don't think too much.' For a while, I think he was thinking. He was a freshman, [experiencing] the wear-down of the season, but today he just relaxed and hit some big shots."
Williams Diggins said the Wolverines trusted their freshman teammate from the start of the season.
"He's a good player," Williams Diggins said, "and if he wasn't good, he wouldn't be on varsity."
Junior forwards Da'Jon Bellfield and Da'Juan Bellfield each grabbed six rebounds for West Potomac.
The Wolverines started the season 3-6, including 0-2 in conference play. Before the start of the 2016 portion of their schedule, Houston made an adjustment, adding Da'Juan Bellfield to a starting lineup of Williams Diggins, Mackey, Sara and Da'Jon Bellfield, and West Potomac got hot. The Wolverines closed the regular season by winning 10 of 12 and earning the No. 2 seed in the conference tournament.
"[It has been a] long year of hard work and a lot of guys, players and coaches, that put a lot of their time and effort and sacrificed for a vision that they weren't sure [about], but I knew we had the group of guys to do it, it's just we all had to get on the same page," Houston said. "I've never been around a group like this before, that they just listen, they play so hard. [There are] no complaints from anybody, no parent complaints. I've never been around anything like this."
West Potomac defeated Patriot 62-45 in the opening round of the 6A North region tournament on Tuesday. The Wolverines host Robinson in the quarterfinals at 7:30 p.m. tonight.