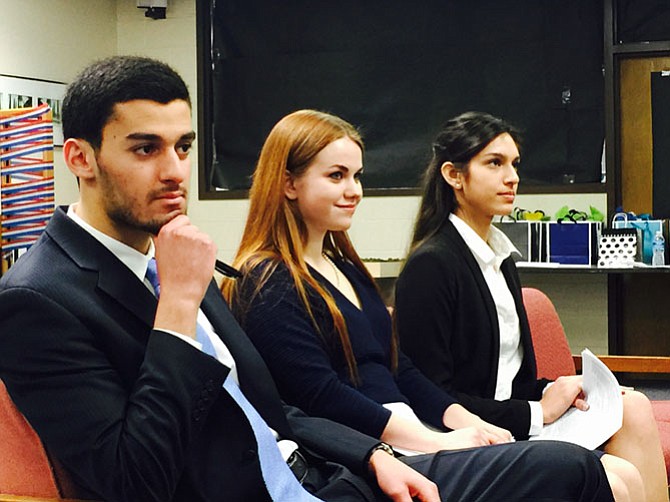 United States Supreme Court Justice Antonin "Nino" Scalia helped former Langley teacher James Catlette develop Case Day into an annual academic gift to each Langley graduating class.
"We want to thank him for his 24 years of support," said Alexis Apostolou, of Scalia, at Case Day on Friday, Feb. 19, held in the Langley High School library.
Many of the seniors involved in presenting and executing the student-run program on Friday, Feb. 19, got to attend the actual Oral Arguments in Utah v. Strieff, held at the United States Supreme Court on Monday, Feb. 22.
"Langley has a connection that few law schools and colleges have with the Supreme Court, and its ability to do Case Day is, I think, incredible," said Langley senior Adam Speers. "It definitely sets it apart from other schools."
JUSTICE SCALIA died in his sleep from natural causes, on the night of Feb. 12 or the morning of Feb. 13, following an afternoon of quail hunting and dining at the Cibolo Creek Ranch in Shafter, Texas.
Scalia was 79 years old.
"I know Justice Scalia is a friend to Case Day, and was invaluable and important to the program especially in its early years," said guest speaker and attorney William S. Consovoy.
"I think this is a good time to think about Justice Scalia's role on the court. He's undoubtedly one of the most influential members of the court in its history," said Consovoy, who spoke about the history of the Supreme Court and its evolution.
"He really believed what should drive the analysis is the text, the actual words of the constitution. What the words of the text mean, what they say, what they actually say, and what they don't say," he said. "That gave him an anchor."
Scalia was appointed to the Supreme Court by President Ronald Reagan and sworn in on Sept. 26, 1986. At the time of his death, he was the longest-serving justice on the Supreme Court.
Gen. William Suter served as clerk to the U.S. Supreme Court from 1991 to 2013.
"If you students want to see good writing, read his opinions," said Suter. "He was the greatest of the great," said Suter. "Faithful to his family, faithful to his faith, faithful to the law."
Scalia married Maureen McCarthy on Sept. 10, 1960.
Catlette said he taught seven of Scalia's nine children -- five boys and four girls -- when they attended Langley High School. A portion of Scalia's 28 grandchildren currently attend the school that serves McLean and Great Falls.
Langley students piped Catlette via Skype from Florida and Catlette, Gen. Suter and Stuart Mendelsohn reminisced about Scalia with fondness, laughter and respect.
Suter recalled when the Supreme Court presided over a case involving the Affordable Care Act (Obamacare) and he provided Scalia with 2,400 pages of reading material for a weekend.
"'What happened to the 8th Amendment?' he said. 'Don't justices get protection from the 8th amendment?'"
The 8th Amendment involves protection from cruel and unusual punishment.
Former Dranesville Supervisor Stuart Mendelsohn, often involved in Case Day, said when he had Scalia children next to him, "they would pass me notes, make sure you argue this, make sure you argue that."
Adam Speers grew up with Scalia's grandchildren since pre-school.
"The thing about Justice Scalia, he's so conservative and yet it's impossible, it's virtually impossible, to refute his logic on any case," said Speers. "Justice Scalia is a huge loss."
"A devastating loss to the Langley community," said senior Katherine Weyback, who served on the education committee for Langley Case Day 2016.
Paul Scalia presided over his father's funeral service at the Basilica of the National Shrine of the Immaculate Conception, on Saturday, Feb. 21.
More than 3,000 people attended the ceremony to honor Scalia.
CASE DAY is "such a fantastic institution at Langley, I"m honored to be a part of it," said senior Priya Miller, who argued for the respondent in Friday's mock trial.
Students Miller, Speers, Lily Brock and Ameen Al-Dalli were selected after a tryout to make Oral Arguments before Langley's nine-justice bench.
"I was ecstatic," said Miller. "It was certainly a rigorous tryout and a bit intimidating, but, once I found out, I was so overwhelmed with happiness and excitement to get involved with this day. I knew it was a lot of hard work ahead."
Each year, Suter serves as the Chief Justice of the mock-trial. Attorneys Cary S. Greenberg, Caroline E. Costle, Mark Haskell, David Koplow, Stuart Mendelsohn participated and Dranesville School Board Member Janie Strauss is often involved.
Langley students Clare DaBaldo and Bita Golshani were selected to join them after tryouts on this year's Langley Supreme Court bench.
The case, Utah v. Strieff, considers "whether evidence seized incident to a lawful arrest on an outstanding warrant should be suppressed because the warrant was discovered during an investigatory stop later found to be unlawful," according to scotusblog.com.
DaBaldo announced and helped write the dissenting opinion.
"Officer Fackrell's brief detention of the respondent, as found by the state trial court, 'was not a flagrant violation of the Fourth Amendment' and was done in good faith," she said. "There was sufficient attenuation between the initial unlawful stop and the lawful arrest on the preexisting warrant."
MORE THAN 250 students attended the mock trial.
"It was not so much my peers I was worried about when I was being questioned, it was the people with law degrees," said Speers.
But Speers may have had the line of the day, when asked by Mendelsohn what the officer was to do in the specific case if he found the defendant with a bag of drugs hanging visibly out of his pocket.
"I think that is a sobering example of why an officer must abide within the confinements of the law," said the Langley senior.
Al-Dalli learned the day before that he would be speaking first.
"They said, 'Get ready for them to release the hounds on you,'" said Al-Dalli, who argued for the State of Utah, the petitioner.
Lily Brock fielded 31 questions during her 15-minute oral argument.
"I actually enjoyed the questions. A lot of what they asked was what I wanted to address so it kind of steered me towards that," she said.
THE MOCK-TRIAL is set up precisely like a Supreme Court case.
"It goes by fairly quickly especially if the justices are asking a lot of questions. It's a pretty fast experience. Being up there, it was an exciting experience to be questioned and to have this conservation up there with these law professionals," said Miller.
Speers tried to relax as he spoke and reacted.
"It's funny, when they give you a question you think you can answer you feel great, when they give you a question that stumps you or you give the wrong response, it's kind of like a split commentary in your mind," said Speers. "You have one part of your brain thinking, 'What did I just say?' and the other trying to hear and be able to respond to the question they are about to pose based on your mistake."
Miller said her acting experience at the Alden Theatre at the McLean Community Center helped.
"Certainly when you're up there doing oral arguments, improv is your friend," she said. "You don't know what questions are going to be asked, you have to work with it."
"You guys did such an amazing job, you have much to be proud of," said Langley teacher Allison Cohen who sponsors the program and gives guidance to students with teacher Micah Herzig.
ALL FOUR STUDENTS knew of Case Day's importance to each graduating class.
"Absolutely. It's beyond beneficial. This is not something you can fluff your college apps with because those are already submitted, it's just the students that want to be involved," said Speers.
"From the beginning of this year, I told myself I'm definitely going to try out, no one is going to convince me otherwise," said Al-Dalli. "You can't find an experience like this anywhere else. Fairfax County, the United States. We got to take a tour last week of the Court."
"This is definitely the best experience at Langley in all my four years. I remember freshman year hearing about case day, and I remember thinking, 'Why are all these seniors so excited?'" he said.
"Probably academically it was the best thing I've done in high school. Actually, for sure it was," said Brock. "It was just so wonderful to commit yourself to something so much and then to present it and not just to go up and pontificate but to actually have something you're saying questioned.
"It's been a pretty big time commitment," she said. "I'm so excited to see the actual petitioners and the actual response from the Solicitor General and to afterwards meet with Justice Elena Kagan."
"I was always aware of Case Day and always felt its presence," said Miller.
"To be able to go to the Supreme Court and get to see it in real life allows us and gives us a perspective of the scope of this actual case and to see discussions being held on a such a prestigious level.
Especially now that Case Day is over, it will be exciting to have this insider information," she said.
Al-Dalli said the people that view the Supreme Court Case "won't have the ability to connect to the case and to connect to the different lawyers arguing it like we did.
"I just argued this case in front of these lawyers, and professional lawyers will be arguing the same case in front of the most prestigious court in the United States. I can't describe how excited I am for that," he said.
Al-Dalli is contemplating either a pre-law or pre-med track when he attends undergraduate school next fall.
"I learned so much. If someone asks me something about the Fourth Amendment now, I could go on and on and on."