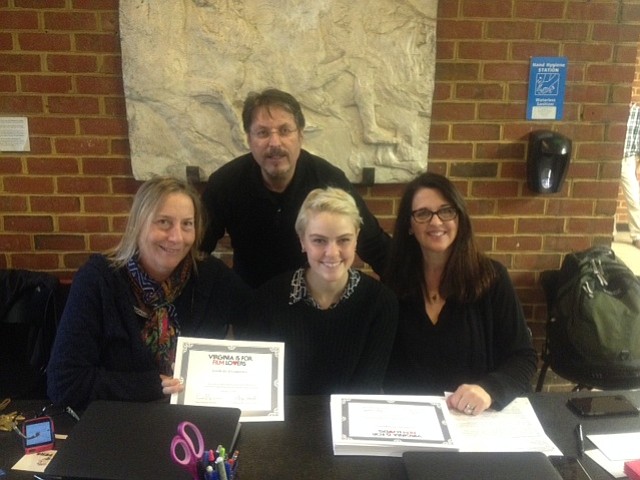 On Saturday and Sunday, Feb. 20-21, more than 80 students and community members took part in the weekend Virginia Production Assistant Training for Film and TV co-hosted by GMU FAVS at the Harris Theatre. The program included instruction by Gary Fiorelli and representatives of film groups with the Virginia Film Office, Virginia Production Alliance, Women in Film and Video DC, and a dozen guest speakers. Fiorelli has worked on projects including Pirates of the Caribbean, Jarhead, and Runaway Jury. A reception was held the evening of Feb. 20 at ThunderShot Studios at 9425 Mathy Dr, Fairfax. "I thought the session was really helpful," said GMU junior Kyle Finnegan.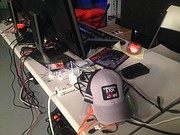 Ryan Hill, a senior at GMU said the seminar sessions reflected on how the Film and Media Studies program has been expanding. ThunderShot Studios designed by industry insiders Lars Sandvik and Amy Krueger, noted the Virginia and D.C. market has many clients for video production. ThunderShot Studio, a modified warehouse, opened in September 2014. "In order to find air conditioning this quiet, you would have to go to either New York or Hollywood," said ThunderShot Studios president, Lars Sandvik. ThunderShot Studios was engineered to an NC-25 sound isolation standard. The studio is a 60-feet-by-40-feet-by-16-feet space with 1,000 amps of dedicated studio power and a 180-degree hard cyclorama.
Anne Chapman of the Virginia Film Office and FAVS Program coordinator Rebekah Mejorado helped organize the February Virginia Production Assistant Training for Film and TV event at GMU. Approximately 60 percent of those who attended were not students, but were interested in the opportunity to learn new skills and network. For those entering the film and production field, it was an opportunity to learn about groups such as Women in Film and Video (WIFV). Founded in 1979, WIFV is a resource for people who want successful media careers in the D.C. region. "We have a lot of regional reach," said Ariel Magno, a membership coordinator at WIFV.
Film and Media Studies Program at George Mason University (GMU) has grown since it was founded in 2006. The Film and Media Studies (FAVS) Program explores films, new media, and forms of television to understand media's contexts and effects. The program was founded when deans and the College of Visual and Performing Arts and the College of Humanities and Social Science, along with a group of local filmmakers, created the first multidisciplinary undergraduate degree in film in the Commonwealth of Virginia. The program has been developed to feed a need for talented film and media professionals. "The film scene in Virginia and D.C. has been growing," said GMU senior Josh Renkes.
Thursday, Jan. 7, President Obama and CNN host Anderson Cooper sat for a town hall discussion about "Guns in America." The event was broadcast live from the Johnson Center's Dewberry Hall on Mason's Fairfax campus. Student media covered the town hall, and Mason Cable Network general manager Robert Horan was granted press access by the White House. College student operated newspaper Fourth Estate reporter Natalia Kolenko and photo editor Amy Rose covered a protest on the North Plaza.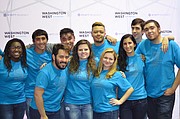 Monday, 22 February at 7:30pm GMU hosted a free film screening of Kandahar Journals, by Louie Palu and Devin Gallagher (2015). Kandahar Journals follows photojournalist Louie Palu's experience while covering the war in Kandahar from 2006 to 2010 and then, its aftermath. With a narrative spine built on Louie's personal journals written in Kandahar, the film traces the chaos of the war, using footage shot and directed by Louie Palu, as well as everyday life in North America, directed by Devin Gallagher. Louie Palu took questions from the audience after the film.
IN ADDITION to being the location of professional film studios, Fairfax County hosts film festivals such as The Northern Virginia International Film Festival, which will be held April 21–30. This festival is for filmmakers who aim to bring a slice of Hollywood to Virginia. The founder and director of the film festival is 1994 GMU graduate Fernando Mico. Events for the festival take place at several locations including the Angelika Film Center at the Mosaic District of Fairfax. "We accept all genres and all sizes, with a focus on Northern Virginia filmmakers," said Mico. The film festival also hosts seminars and forums on filmmaking.
On March 25, ArtSpace Herndon at 750 Center St. Herndon, will host Best of FAVS Award Winning GMU Indie Film Showcase Youth Media Event. The event is 7pm to 9pm, with tickets priced at $10 (Some material not suitable for children under age 15.) The event spotlights films produced by students in Film And Video Studies (FAVS) at GMU from Fiction and Documentary Directing classes and Senior Thesis projects.
Wednesday afternoons in March, the public is welcome to view classic films on the big screen at GMU's Johnson Center Cinema. The movies begin Wednesdays at 4:30pm, and the films are free and open to the public. These events will be sponsored by the College of Visual and Performing Arts. For more information on the Film and Media Studies Program at George Mason, visit http://fams.gmu.edu/.