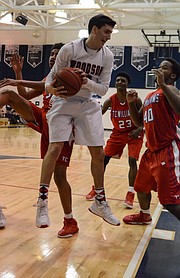 Matt Ayoub became one of the Woodson boys' basketball program's top offensive threats when he transferred in from Paul VI as a sophomore.
The sharpshooting guard has piled up the points since joining the Cavaliers, and on Tuesday he scored his 1,000th career point --- a milestone he achieved in less than three full seasons.
Ayoub reached 1,000 points with a transition bucket that gave Woodson a 43-33 lead over T.C. Williams in the third quarter of a Conference 7 matchup on Tuesday, Jan. 19. The Titans came back to win, however, 79-76 in overtime.
When asked about the accomplishment, Ayoub responded like a leader.
"It's a big point for me --- a big thing in my career--- but tonight it didn't really mean much because we lost," Ayoub said. "That's the No. 1 thing for me [is] for our team to win."
When asked to separate the loss from his accomplishment, Ayoub said: "It's big. Honestly, I didn't think I would get there in three years in my high school career. My mom always told me she's so proud of me. She's there every game."
Ayoub has played in two region championship games and a pair of state tournaments with Woodson. The Cavaliers beat Lake Braddock to win the 2014 6A North region title when Ayoub was a sophomore, and lost to Westfield in the 2015 region final.
"Matt's been real consistent for us this year," Woodson head coach Doug Craig said. "He's a very good player. I think he's improved a lot over the three years. He puts the ball on the floor and gets to the basket a little bit more [and] he's gotten to the free-throw line a lot more this year. He's just grown as a player over the last three years."
The 6-foot-3 Ayoub is committed to play at St. Mary's College of Maryland, a Division III program.
Ayoub finished with 23 points against T.C. Williams on Tuesday, including five 3-pointers.
"One-thousand points is a lot of points," Craig said. "That's a testament to his consistency as a good player. We'll miss him next year when he's not here anymore."