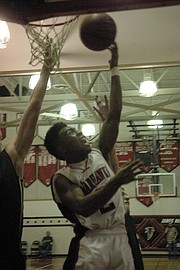 A snowstorm caused Fairfax County Public Schools to cancel classes and athletic events for more than a week. Some areas received more than 20 inches of snow during the weekend, according to the National Weather Service, creating a break from competition for local high school athletes.
Madison senior basketball player Taiga Walker shared his storm experience via email with The Connection.
Q: Where do you live?
A: I live in Vienna, right next to Madison High School.
Q: How did the amount of snowfall in your neighborhood compare to what you thought would fall?
A: I wasn't expecting this amount of snow whatsoever. At first I was excited about the snow, but there was way too much of it.
Q: What, if any, preparations did you and your family make for the storm?
A: We went to the grocery store and piled up on food as almost every family did in Vienna.
Q: What did you do to pass the time during the storm?
A: Hang out with friends/teammates, watched lot of Netflix and game film.
Q: Did you play in the snow? If so, what did you do?
A: I tried to go sledding with friends on Saturday, but the snow wasn't compacted enough.
Q: Were you able to exercise/practice during the storm? If so, what did you?
A: I shoveled with friends for a company for 13 hours on Sunday, which I would consider as excruciating exercise.
Q: The Madison boys' basketball team is 12-2. Are you at all worried about the storm disrupting the team's success?
A: Previous years I would be worried about how our team would bounce back from the storm, but this year I am confident that we will come back with a hungry/focused mentality to stay on this great track we've been on this year.