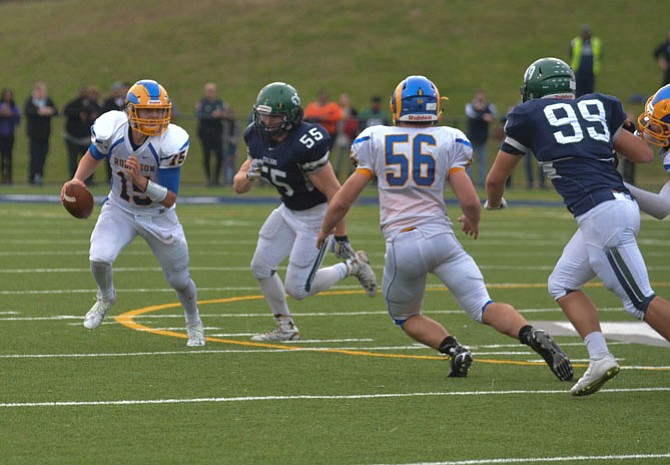 A snowstorm caused Fairfax County Public Schools to cancel classes and athletic events for more than a week. Some areas received more than 20 inches of snow during the weekend, according to the National Weather Service, creating a break from competition for local high school athletes.
Robinson junior Alex Miller, who is the quarterback of the school's football team and a guard on the boys' basketball team, shared his storm experience via email with The Connection.
Q: Where do you live?
A: I live in Burke.
Q: How did the amount of snowfall in your neighborhood compare to what you thought would fall?
A: There was more snow than I had expected would come. My dad and I shoveled for about 3 hours to be able to move our cars in and out of my neighborhood.
Q: What, if any, preparations did you and your family make for the storm?
A: My family went to the grocery store like most people to get food but nothing special.
Q: What did you do to pass the time during the storm?
A: I passed the time of the storm by watching the show "Friday Night Tykes" on Netflix, which is about youth football in Texas.
Q: Did you play in the snow? If so, what did you do?
A: I did sled a little at Terra Center, the local elementary school.
Q: Were you able to exercise/practice during the storm? If so, what did you do?
A: I wasn't able to do anything while it was snowing but once it stopped I was able to go to training.
Q: Are you interested in playing college football or basketball? How is that process going?
A: I hope to play college football, and I think that the 7v7 team I joined for the spring/summer will help me to be more prepared for collegiate offenses when most aren't the type of offense that we run at Robinson (wing-T). The process of recruiting for me is still in the air because I haven't gone to any camps other than Georgetown. So far nothing significant has come up for me.
Q: Do you feel it will be difficult to get back into the flow of basketball season after a lengthy storm layoff?
A: The layoff will be a little difficult to come back to for basketball but after one day, I believe that we will be right back to where we left off and hopefully keep getting better.