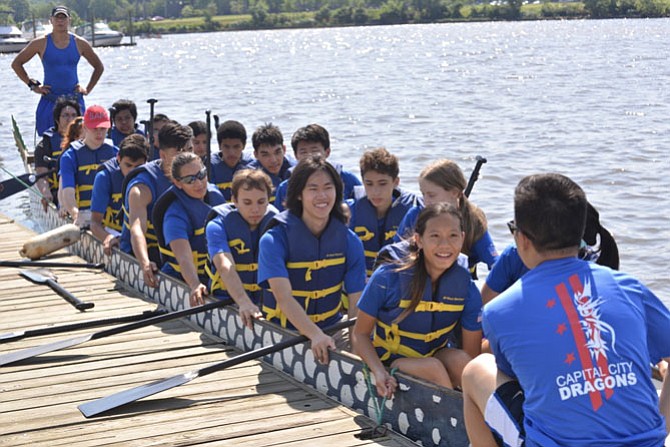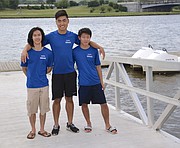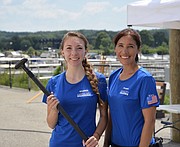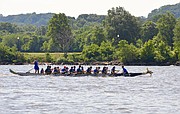 It's been called the fastest growing water sport in the world – although it took more than 2,000 years to recently take aim at that title. It can be enjoyed by people of all ages, all levels of skill, and varying degrees of commitment, from the just for "fitness and fun" crowd to the most serious of competitors. And you don't even have to know how to swim to participate! So what is this mysterious, possibly-ancient activity that just about anyone can do? Dragon Boating! Hmmm…sounds like something combined from "Game of Thrones," and "Vikings," but it's really a lot more fun and a lot less dangerous than the action depicted in either of those television series. And a lot less expensive to take up than many other sports.
"It's true," says Kwansene Kenner, who is the mother of two young dragon boaters, someone who has also competed in the sport, and who just so happens to be the program manager and assistant coach of the Capital City Dragons (CCD), the youth club of dragon boaters right here in our area. "I have a 13-year-old son who also plays football. The cost of his equipment and the time spent in practice and travel are quite a lot more than the $95 annual fee for his membership in CCD. The youth teams generally practice just once a week and their membership includes all the equipment needed." (Membership in the adult club is more.)
The sport of dragon boating wasn't born on the mythical shores of "Westeros," nor from the real-life journeys of those water-wandering Vikings. The modern manifestation of the competitive activity saw its beginnings in Hong Kong in 1976, but its roots can be traced back to China, in the B.C. Fast forward a few thousand years and see how dragon boat racing has evolved into an international sport celebrating fitness, fun and teamwork, and whatever level of competitiveness suits the individual paddler… and how it has successfully paddled into our own local waterways.
Starting with the basics. Just what is a "dragon boat?" In China, the dragon is a much revered symbol of power, with controlling influence over water and related weather. Decorated with a colorful dragon head and tail during competition, the dragon boat is basically a long, narrow canoe, manned by 20 paddlers sitting as pairs in 10 rows, with a steerer/coach navigating and issuing commands from the back, while an on-board drummer keeps time at the front. Don't think for a minute that the drummer is just for show. Check out the photos and imagine those 20 paddlers sitting that close together and not maintaining a steady and synchronized rhythm.
There are numerous differences between dragon boating and other rowing sports, but the most obvious are that the crew of the dragon boat is facing in the direction of the boat's travel, not backwards as in sculling, and it's a paddle, not an oar, that's used to propel the boat.
DRAGON BOATING came to our area when the National Capital Area Women's Paddling Association (NCAWPA) was established in 1992 as a nonprofit, community-based organization. What started as a women's only paddling group has grown significantly over the years. In 1994 the NCAWPA started a team for outriggers (a story for another day). Then came the DC Dragons, a co-ed group of paddlers who range in age from 18-72. In their 20-year history, they have become a real force to reckon with in the sport, often sending members to represent Team USA in the IDBF World Championships.
Convinced that dragon boating was really something for everyone, the NCAWPA then developed a youth program for ages 12 to 18, dubbed the Capital City Dragons, and head-coached by Jeff Kuhn, who does double duty as the president of the DC Dragon Boat Club (DCDBC) - not to be confused with the DC Dragons. The DCDBC really illustrates just how explosively the sport is growing. Since its formation in 2008, they have expanded to more than 150 members and a plethora of teams including a recreational adult mixed team, a competitive adult mixed team, a women's team, and a blind and partially sighted team called the "Out of Sight Dragons." Based out of Gangplank Marina at the Wharf, the DCDBC is also home to a number of community teams and corporate teams like the "Volksdragon," and Booz Allen's BetaFish gang. Isn't the double duty of coaching responsibilities with one group and the president's role in another a bit like overloading the plate? Maybe, but Kuhn thinks it's worth it. "It's great to have a hand in introducing the kids to the sport, watching them develop not only physical skills, but teamwork and confidence." Whether or not the youngsters become competitive dragon boaters, both Kuhn and Kenner say that the sport is "addictive" and it's something that can be enjoyed at just about any age.
Matt Kinsey-Korzym and his three brothers agree that dragon boating "can really grow on you." The four boys, all 2016 graduates of South Lakes High School in Reston came to the sport rather accidentally, when "Mom took us out here when we were in the sixth grade, just to see if it was something we might like to do." Apparently it was. In the six years since they first took up a paddle, the Kinsey-Korzym quartet have loyally attended the weekly practices, and participated in dozens of races, even last year's IDBF 2015 World Championships in Welland, Canada.
"Oh, it's hard, that's for sure," admitted Liam Kinsey-Korzym, "but it's really fun." "I especially like that we made friends outside of our own school circle," added brother Spencer. "At the races you have lots of time to meet people and really talk and get to know each other. And, of course, you get to know your crew members, and they come from all over – Virginia, D.C., Maryland." The brothers also acknowledged that adding dragon boat competitor to their school applications and resumes "kind of makes you stand out a bit from the crowd."
Kes Kenner Eversmann, 16, another CCD member who qualified for the 2015 World Championships in the Junior B (U1) Division, also enjoys the friendships she has made through the practices and the competitions and the cultural experiences. "Plus, it's exercise on the water!" said the 10th-grader from James Madison High School in Vienna.
The Kinsey-Korzym boys are all heading off to college in the fall. Those who are staying locally say that will probably move up to the DC Dragon adult club. "Because dragon boating doesn't require hours of practice several times a week," said Liam, "I found that it didn't interfere with academics or even other sports or extracurricular activities. I think you can do this and still do what you need to and have fun in college, too."
If you're thinking that there's "no room on the boat" for you with all these boaters who have been pushing the paddles together for years, then think again. "Our practices and our teams are really quite fluid," declared Kwansene Kenner. Dragon Boat crews are not like football or baseball teams with a set roster per season, barring injury or other unforeseen circumstance. "People do come and go. We sometimes literally have to 'balance the boat' before a practice session and sometimes before a race, putting people in certain positions depending on who's there."
COACH KENNER explained that there is a Premier Division Class of competitors - "the best of the best." Those teams tend to be more constant in their crews, but just like in the Olympics, team members who compete at the World Championships (held in odd years) or Club Crew Championships (even years) come from all over after individual athletes "earn their berths" with superior performances in individual qualifying races. "Those who want to compete at that level can, but there is plenty of room and a warm welcome for those who just want to enjoy the camaraderie, some great cardio and core exercising, and a good day out on the water."
As a shining example of just how accessible the sport is, Kenner talks about the GoPink!DC team, the only local dragon boat team for women who have have had or have breast cancer. Along with their own personal experiences, the participants in that NCAWPA club cite numerous studies that laud the physical and mental benefits of the sport for women in treatment for, or in recovery from breast cancer. The GoPink!DC paddlers race against other breast cancer teams, and like the DC Dragons and the Capital City Dragons, and the DC Dragon Boat Club teams "they come from all over the region, and include women who never did a water sport before," said Kenner. "So don't be shy. Come on out!" is her advice.
As Kenner points out, there is "nothing to lose" by exploring dragon boating as your new casual hobby or competitive passion. Folks interested in the adult mixed-crew DC Dragons, in the breast cancer surviving GoPink!DC team, or in the youth program of the Capital City Dragons are all invited to attend a practice or two or even more – at no charge. They meet at the Anacostia Community Boat House in Southeast Washington. All equipment, including life vests, are provided, but anyone who wants to give it a go must register and sign waivers with the appropriate team in advance. For an upclose look at dragon boaters in action, Kenner also recommends joining in the fun at the upcoming Capital Dragon Boat Regatta on August 27th along the Southwest Waterfront in D.C. For the more daring, Kenner suggests getting a crew complement group together and join in. "After all, that's how I started," Kenner says, as part of a corporate-sponsored team, "and I knew nothing about it, but I certainly got hooked!" Kenner, Kuhn and the rest of the paddlers think you might, too.
The NCAWPA's website, www.ncawpa.org, has all the history and information necessary to explore the paddling sports in our area. The DC Dragon Boat Club will tell you their story at www.dcdragonboat.org, and introduce you to a variety of teams, the youth club Capital City Dragons at www.capitalcitydragons.org and the breast cancer survivors team www.gopinkdc.com. For more information on the Third Annual Capital Dragon Boat Regatta, see their website at www.capitaldragonboat.com.
This story has been updated to reflect the following correction, 7/11/16: Jeff Kuhn was erroneously named as president of the DC Dragons, a dragon boating team in our area that is part of the National Capital Area Women's Paddling Association. The DC Dragons, and the youth team Capital City Dragons launch from the Anacostia Community Boat House. Kuhn is the president of the DC Dragon Boat Club, a separate entity formed in 2008, that now includes some 150 members and a variety of recreational and competitive teams. The DC Dragon Boat Club is based at the Gangplank Marina in D.C.