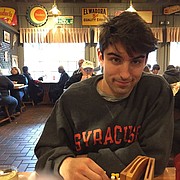 Family and friends reminisced about the life of Hunter Brooks Watson, a 20-year-old man who died in a car crash in Delaware on June 18. On July 9, a memorial service was held at The Potomac School, which Watson attended from kindergarten through high school.
He had recently finished sophomore year at Syracuse University. Watson was remembered as lighting up the room with his unforgettable smile and laugh. He lived in the moment and would dedicate his undivided attention to whomever he was speaking. He was described as larger than life and persevering, so much so that he inspired others to take risks and accomplish more.
Watson was also remembered as creative and clever at school, renowned for being fun-loving and using the classroom as his stage. He was musically talented and would spend much of his free time attending concerts, listening to and producing music. He had a talent for producing videos, as well.
As a 10-year-old, Watson produced a music video that has had over 5 million views to date for a song his band wrote called "Video Games" that parodied children addicted to video games.
He is survived by his his mother, Judy Watson, father, Jerry Watson and, one sibling, Theodore (Teddy) William Watson, 25, NYU Class of 2016; his aunt Connie (Zeigler) Thomasson (husband Mike); and cousins Denise Fruik (husband Chris); Lynn (Watson) Ireland (husband Robert); Nancy (Watson) Thomas (husband George); and Jamey Watson (wife Lisa).