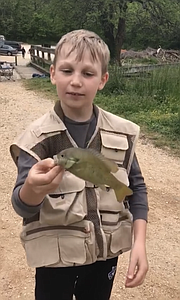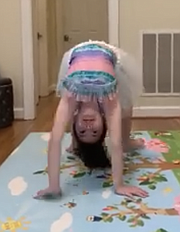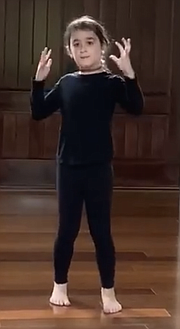 Every year, students at Potomac Elementary School have a chance to share their talents with the school community during the Potomac's Got Talent show.
This year? Many end-of-the-year traditions had to be put on hold, but not the talent show.
The PTA sponsored a virtual talent show via Facebook.
Students were invited to film or take photos of themselves acting out their talents and post them on the school's Facebook page.
Almost twenty brave and talented students took the challenge and displayed a wide range of abilities. Especially interesting were the many talents that would not have been on display on a school stage. Students showed off cooking skills, many sports abilities including horseback riding, trampoline and running, along with more traditional talents playing musical instruments, singing and dancing.
"The virtual talent show was amazing. We saw a variety of talent from football, gymnastics, dancing to horseback riding," Catherine Allie, Potomac Elementary principal, wrote in an email. "It was terrific to see students flourish outside of the school classroom."
The show opened with a tantalizing display of baked goods and a very sophisticated brunch platter of scrambled eggs and avocado toast prepared by Annelise Meira. Like many of us, she has been practicing her cooking skills during her time at home. She did not share recipes.
Next up was third grader Adya Bhardwaj playing the piano. She was followed several acts later by her fifth-grade brother, Avi, who also played the piano, both showing excellent skills with their finger work.
Every grade was represented in the show. Kindergarteners had the most talent to show off. Six of them took part.
Grayson Greenbaum showed off his baseball skills, pitching with good form, and fielding well too. His classmate Giuliana Jeffries showed her ability to do seat drops on the trampoline. She did 33 in a row.
Sticking with the athletic theme, kindergartener Eduardo Freire ran from one place in his yard to another, expecting it to take 15 seconds. He did it in 13 seconds.
"Wow," he said, impressed with his speed.
Staying with the kindergarteners, Tatum Safa announced at the beginning of her video, "I am an equestrian." The tape of Tatum's riding abilities showed her riding, jumping, and guiding her horse in a number of moves.
She was followed by Azaria Mita dancing to "Peace and Love" by Tall Black Guy.
The last of the kindergarteners was Ethan Larkin who enthusiastically displayed his skills on the trampoline.
As the lone first grader, gymnast Cecilia Zhuo did a floor routine that included a one-handed cartwheel along with other dance moves and tumbling skills.
Four second graders participated.
Beckett Safa, played football as did Carlos Romero, while Layla Greene performed a modern dance and Manuela showed off her gymnastic abilities.
From third grade, other than Adya, was Addison Greenbaum who showed her gymnastic skills beginning with a back walkover, followed by a cartwheel.
Caden McCuien, a fourth grader, played the piano and Kian Zadegan, also a fourth grader, played guitar.
Fifth grader Teddy Pearce sang and Sebastian Swierczak, who did not give his grade, showed photos demonstrating his abilities and interest in animals, especially frogs, who he raises from tadpoles, then releases. Pretty impressive.
All the talent show participants were impressive.