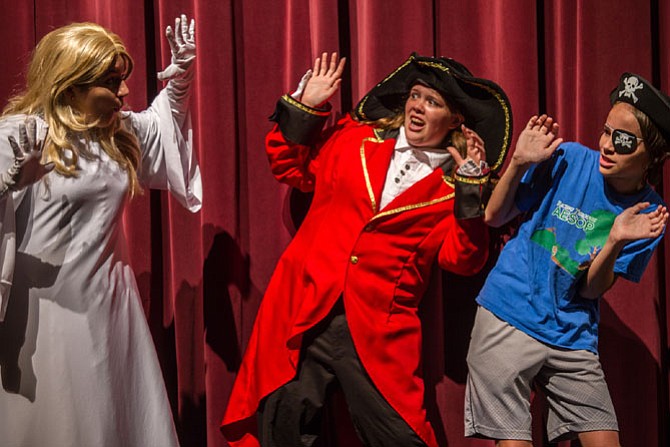 An 8-year-old boy's pirate adventures on the high seas will elicit laughter in Chantilly High's children's show, "Pirates! Theodore Thud and the Quest for Weird Beard."
Featuring a cast and crew of 25, it's set for Wednesday-Friday, July 27, 28 and 29, at 10:30 a.m. in the school theater. Tickets are $5 at the door or via www.chantillyhsdrama.com. And children will be able to meet and greet the cast after the show for photos and autographs.
One minute, young Theodore is pretending to be a pirate; and the next, he's tangled up with real pirates and wondering how he'll ever get home again. One of the swashbucklers, Mr. Clunky Bones, insists that Theodore is really a pirate named Weird Beard. So Theodore goes on a mission to find the real Weird Beard and bring him back to his ship.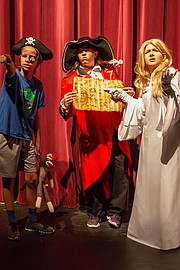 "It's a wonderful show for the entire family," said Director Shannon Khatcheressian. "The characters are zany, and there's someone for everyone to enjoy." She's also excited "to have the opportunity to work with current students as well as our incoming students. And for them to get the chance to work with one another on a show before the school year even begins is beneficial toward fostering that sense of community."
This play is the culmination of Chantilly's first summer theater camp and, said Khatcheressian, "All the actors received their scripts in June and came to camp with their lines already memorized. They work beautifully together and are enthusiastic and energetic, and they've created some hilarious characters the audience is sure to love."
Sophomore Jared Belsky portrays Theodore. "At the beginning of the show, he's submissive and listens to all the pirates and does what they say," said Belsky. "But after he leaves on his adventure, he becomes more courageous and a leader."
Playing a lead role has given Belsky "a lot more lines to memorize [than usual]," he said. "But I'm happy to take on the task. And it's fun that Theodore is a child, so I get to act out and do what I want with him from my own imagination. The audience will like this show because it's an over-the-top comedy and has lots of funny and wacky characters."
Playing Mr. Clunky Bones is sophomore Samantha York. "He's one of the pirates and is the villain of the story," she said. "He's trying to steal treasure from the ship's captain. He's already made one of the pirates disappear and claims that Theodore is that pirate. He's mischievous and can be tough, but he's not mean and cruel. He's also got a skeleton face, so it'll be interesting playing a non-human and a villain who's not so evil."
York said the audience will like "how crazy the characters are and how different each one is. In a children's show, the actors get to be over-the-top and go out of their comfort zones. Kids will enjoy the story because it has lots of jokes for them and the characters' hand motions and funny voices will make them laugh."
Senior Bryan Matthews portrays Capt. Cramp Hand. "He's a courageous captain and a good guy," said Matthews. "He can be tough on people, but he's actually nice. But he's a little naïve because someone's stealing his loot."
"I've done children's shows here in the past, so I'm certainly happy to be in this one," continued Matthews. "Children's shows are big and goofy and have a funny sense of humor. I'm having fun with this role because I can make the captain into a SpongeBob SquarePants kind of guy. And the audience will love the show because it's a silly, pirate adventure with teenage mermaids, dramatic-artist frogs and happy, dancing dudes."
Playing out of the most unusual parts in this show is senior Gabe Ribeiro, who portrays Polly Parrot. "He's a sidekick to Mr. Clunky Bones and is helping him steal the captain's loot," said Ribeiro. "Polly's obedient and follows orders."
Ribeiro will give his character a squeaky, high-pitched voice like a parrot and will even repeat some words. "I'm portraying the parrot like I am in real life," he said. "But I do have to act differently and more like a bird, flapping my 'wings'."
As for the show, he said, "Everybody's been working hard to make it even bigger so the kids will enjoy it and stay interested. There'll be big, exaggerated movements, actions and walks, so it should be a lot of fun for them."