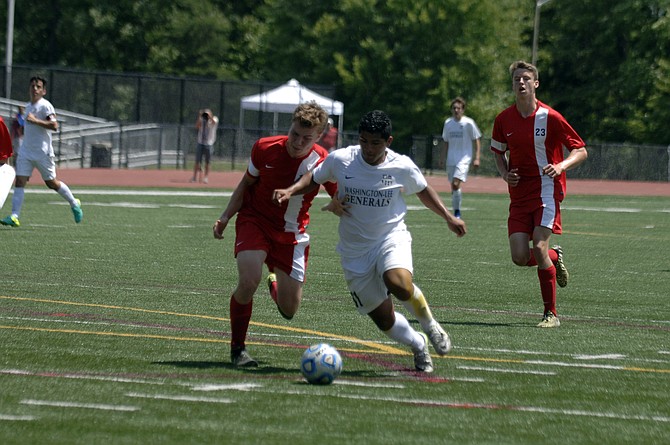 W-L Boys' Soccer Blasts Grassfield
The Washington-Lee boys' soccer team beat Grassfield 6-0 in the 6A state semifinals on Friday, thanks in large part to four goals from senior Maycol Nunez.
The Generals also got goals from Andrew Kamian and Abdullah Al-Rubaiy.
W-L (17-1-2), the 6A North region champion, will take on First Colonial, the 6A South champion, at 5 p.m. today in the state final. First Colonial defeated Yorktown 2-1 in the semifinals on Friday.
Chantilly Baseball Beats Cosby
The Chantilly baseball team defeated Cosby 4-1 in the 6A state semifinals on Friday at Robinson Secondary School, setting up a third meeting with Battlefield.
The Chargers (24-2) and Bobcats (23-4) will meet in today's state championship game at 11 a.m. at Robinson. Chantilly defeated Battlefield 14-5 during the regular season on April 25 and 8-3 during the 6A North region championship game on June 3.
Battlefield defeated Hylton 2-1 in Friday's other semifinal matchup.
This will be Chantilly's third straight state final appearance. The Chargers lost to Western Branch, 6-4, in 2014 and Madison, 6-5, last season.
Robinson Girls', Boys' Lax to Play for Titles
The Robinson boys' and girls' lacrosse teams look to repeat as state champions today at Lake Braddock Secondary School.
The girls' team will take on Woodson at noon in the 6A state final. The Rams are undefeated (20-0) and have not lost to a public school opponent since 2014. Robinson has defeated Woodson twice this season, including an 18-7 win in the 6A North region championship game on May 31.
The boys' team is going for its third consecutive state title. The Rams (19-2) will face James River at 5 p.m.