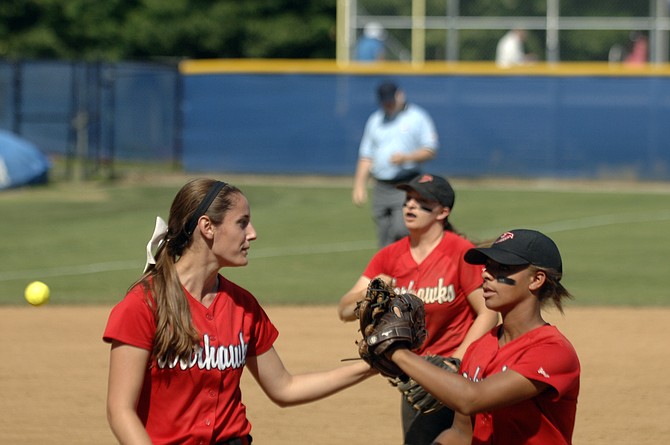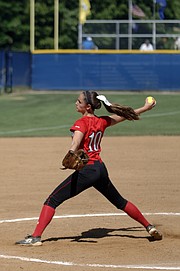 Madison pitcher Katie Vannicola thought she had surrendered a hit when Grassfield's Haley Taormina led off the bottom of the seventh inning with a line drive to the left side of the infield.
Instead, third baseman Alex Echazarreta made a lunging catch that preserved Vannicola's afternoon of greatness. The Warhawks pitcher responded by getting the final two outs and securing Madison its first trip to the state final in more than a decade.
Vannicola tossed her first high school no-hitter and the Madison softball team defeated Grassfield 4-0 in the 6A state semifinals on Friday at Robinson Secondary School.
Madison will take on Osbourn Park in the state championship game at 1 p.m. today at Robinson. The Warhawks defeated the Yellow Jackets 5-1 in March during a tournament in Myrtle Beach, S.C., but lost to Osbourn Park 2-0 on June 2 in the 6A North region championship game.
Madison, making its first state tournament appearance since 2013, advanced to the state final for the first time since 2004. The Warhawks are looking to win their first state title since 1989.
Madison has a chance to make history thanks in large part to Vannicola, who held the defending state champion without a hit.
"Unbelievable effort," Madison head coach Jim Adkins said. "She made the necessary adjustments she needed to on the mound. We saw a couple things in their hitters that made us stick to a game plan and she executed it to perfection. … Grassfield is a heck of a team --- defending state champion --- and we knew we were in for a ballgame and we needed that kind of effort from Katie and she came in and delivered."
Vannicola, a senior who will play for Georgetown University, walked three, hit one batter and struck out seven. She had come close to throwing no-hitters in the past, but finally pulled it off on the state tournament stage --- thanks in part to Echazarreta's tremendous catch for the first out of the seventh.
"I can't thank her enough for that one," Vannicola said. "As soon as it came off the bat, I thought it was a hit --- but there she was."
Echazarreta said the play was "pure reaction."
"We work on stuff like that --- they hit the balls really hard at us --- and practice makes perfect," she said. "… I was so happy that I came up [with] that for Katie. She deserved that no-hitter."
Echazarreta also helped Vannicola's cause at the plate. The sophomore third baseman led off the fourth inning with a double off the fence in left-center field and later came around to score on a squeeze bunt by sophomore shortstop Cameron Pistilli.
Echazarreta went 1-for-4.
"She played great," Adkins said. "Alex has been a leader all year long. Only a sophomore, but for her to step up and really get us started with that ball of the fence, it was huge. It was a huge rally igniter and really, quite frankly, the catch in the seventh inning was probably the best of all of it."
Madison scored three runs in the fourth inning. Two batters after Pistilli's bunt plated Echazarreta, senior left fielder Peyton Thomas drove in a run with a groundout. Senior center fielder Blake Brackett then hit a popup to the left side of the infield, and two Grassfield players mis-communicated and dropped the ball, allowing another run to score, giving Madison a 4-0 lead.
That was plenty of run support for Vannicola, who did not allow a runner to reach third base. Grassfield did manage to hit a pair of fly balls with home-run distance that went foul, but Vannicola was unfazed.
"You know that it's going to be over the fence when you see the ball hit, but it's good to turn around and just see that it's slowly but surely going foul," Vannicola said. "You just know not to pitch them there again."
Sophomore right fielder Kristen Williams gave Madison a 1-0 lead with an RBI single in the second inning.
After the game, before the Warhawks knew if they would be facing Osbourn Park or Cosby in the state final, Vannicola was asked her thoughts about the next day's game.
"Either team, I'm sure, is going to be a challenge," she said. "If it's OP, we really want to beat them."
Osbourn Park defeated Cosby 10-1, which sets the stage for today's rubber match between the Warhawks and Yellow Jackets with a state championship on the line.