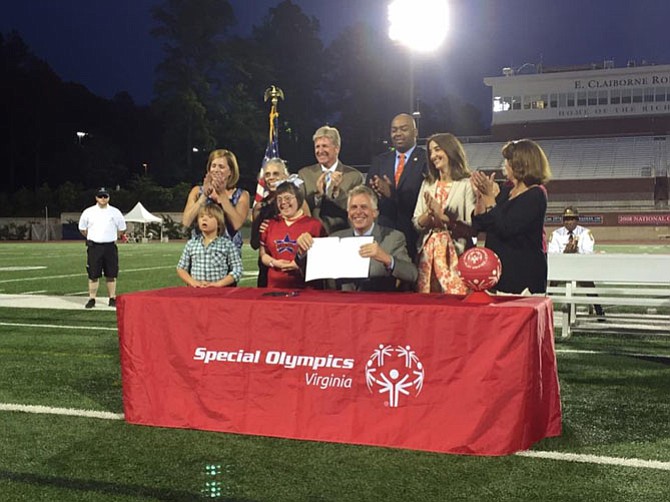 On Friday, June 10, Governor Terry McAuliffe and Del. Eileen Filler-Corn (D-41) joined Special Olympics Virginia's Opening Ceremonies to ceremonially sign Delegate Filler-Corn's bill, HB 1103, into law. HB 1103 builds upon Filler-Corn's 2015 legislation, the Virginia Achieving a Better Life Experience (ABLE) Act, which created 529 savings accounts for people with disabilities (called ABLE accounts) similar to those used to save for college. HB 1103 ensures that these ABLE Accounts will be free of means testing at the state level.
"After meeting with Virginia 529 last fall, I found out that while Virginia ABLE accounts would be exempt from federal means testing, they could be subject to state means testing. If we didn't act, some families might decide to avoid ABLE accounts and their advantages for fear of an adverse impact on eligibility for critical state benefits programs," said Filler-Corn. "This outcome would circumvent the intent of both the federal and state ABLE legislation and fail to assist the very individuals intended to benefit from ABLE accounts. That's why I introduced HB 1103."
Governor McAuliffe and Delegate Filler-Corn have also announced that the 2016-2018 budget includes an income tax deduction for contributions to the ABLE savings accounts starting in Taxable Year 2016 – up to $2,000 per contributor. "While the 2015 ABLE Act was a significant and bi-partisan victory, I knew that we could do better. We could make this program one of the shining examples for the rest of the country," added Filler-Corn.
Filler-Corn was joined by many stakeholders who advocated for the passage of both the 2015 and 2016 legislation including Catherine Beck and her daughter Natalie. The Becks are residents of the 41st House District—represented by Filler-Corn. The federal ABLE law is also named for Catherine's late husband, Stephen who was a driving force for the federal law.
ABLE Accounts will be available for Virginians with disabilities later this year; however, the website where people can eventually open these savings accounts is already live. Those who are interested in finding out more about ABLE accounts can visit https://www.able-now.com.