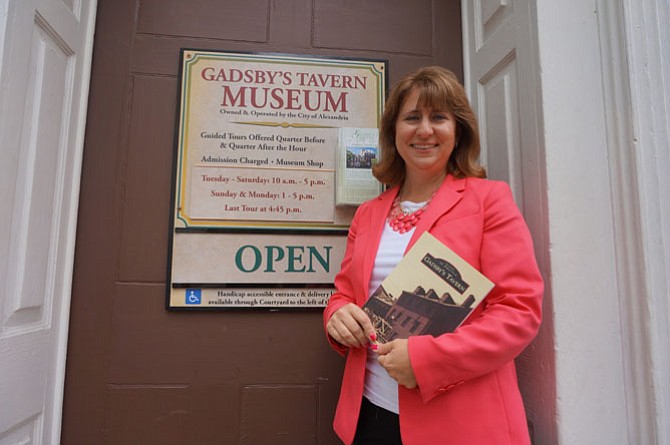 Ever since she graduated from the College of William and Mary with a degree in anthropology, Gretchen Bulova has been a fixture at Gadsby's Tavern Museum, her name becoming nearly as synonymous with the historic building as George Washington and John Gadsby himself. Now, after 25 years of walking those hallowed halls as its director, Bulova shares the story behind the preservation of the tavern in her book "Gadsby's Tavern, Images of America."
"While I have done many lectures on the 20th century history of Gadsby's, it's not a story many people know," said Bulova, who was recently promoted to deputy director of the Office of Historic Alexandria. "It was really important for me to get this story out, particularly as many members of the American Legion pass away. So much of the history of Gadsby's rests with Legion members Bill McNamara and Warden Foley. Those two gentlemen have been the die hards behind preserving this building."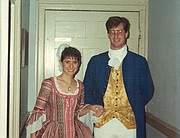 "It was really important for me to get this story out."
— Gretchen Bulova, Deputy Director, Office of Historic Alexandria
Bulova's book features more than 200 photographs of Gadsby's Tavern throughout the years.
"Gadsby's has actually been a museum since 1929," Bulova noted. "Members of Post 24 of the American Legion saved the building from demolition and began working on preserving it in 1926. It was renovated many times but ultimately needed upgrades that were beyond the means of the members."
With McNamara serving as commander of Post 24, the Legion gifted the building to the city in 1972 and restoration began as part of Alexandria's bicentennial celebrations. Gadsby's Tavern and Museum reopened to the public 40 years ago this weekend as part of the George Washington Birthday Parade festivities in 1976.
"I began in earnest working on the book after we completed the War of 1812 celebrations," Bulova said. "I pretty much barricaded myself in my office writing the text and making requests for photographs. Part of my motivation was capturing people's oral history of the building, like Ernie Sult, who staged productions for The Little Theatre of Alexandria here. And Mike Kirby of Chadwick's gave me some of his own clippings and files and shared with me what it was like on opening day."
With her promotion, Bulova has moved her office to Lloyd House, which she noted was built by John Wise, the same man who built Gadsby's Tavern.
"I feel like I am following in his path," she said with a laugh.
Bulova, who holds a Master's degree in museum studies from the George Washington University, will continue to run the Office of Historic Alexandria's retail operations, which includes a new location inside the Hilton Alexandria in Old Town. Her book, along with others highlighting Alexandria's history, are available there as well as at several sites around the city.
"The last book on Gadsby's Tavern was written in 1949," Bulova said. "So it was time to share how this building came to be a landmark museum and to thank those like Bill McNamara and the members of the American Legion who were instrumental in preserving our history for future generations of Alexandrians."