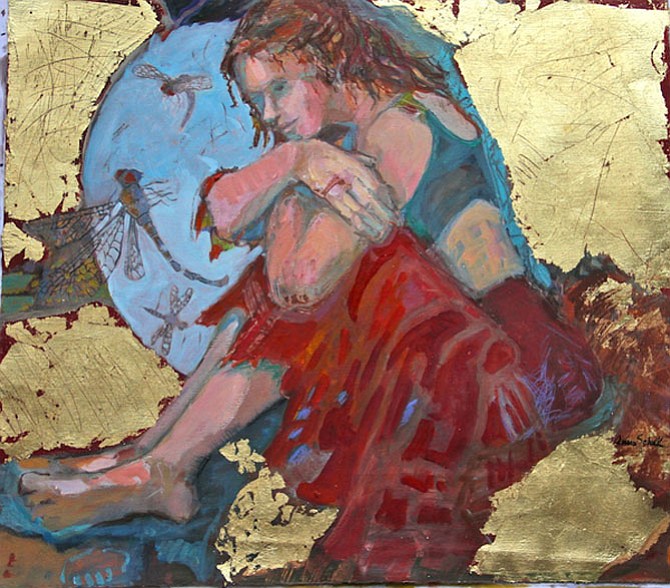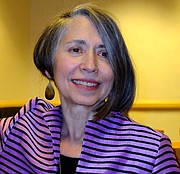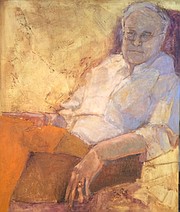 Alexandria artist and retired pediatric occupational therapist Anna Schalk, 74, presented "View From Within," her solo show in June at Gallery Underground in Crystal City.
Schalk is an observer of the familiar and offers viewers an emotional response to the people and objects in her life. But as in the painting of her daughter "At the Window," one may also notice a fascinated interest in insects, a dragonfly in this case.
Other paintings include praying mantids and big blackbirds. These creatures are not foreign nor out of place for Schalk, an entomologist by training. Each rest peacefully in the background or foreground of her paintings, like spiritual beings or protecting guides.
Her exhibit included a series of 10 female artists who reside at Montebello Condominiums in Alexandria. These paintings, including "Maybe, Maybe Not," are serious and contemplative in nature. Women are mysterious, in contrast to her men series, like "Peter" who sits while bringing laughter to the moment.
With the exception of an angst-ridden black-and-white self-portrait completed shortly after her husband's death in 2009, most paintings by Schalk include reds, earth colors and golden hues reminiscent of Gustav Klimt and Richard Diebenkorn, two artists Schalk admires.
Her use of warm colors and circular motifs, or "oracles of wisdom" as Schalk likes to call them, further evoke her emotional response to her sitters who, more often than not, sit live for her. "All my life I've been working with people," Schalk said. "That's what I love."
For more on Gallery Underground, visit arlingtonartistsalliance.org.
To view Schalk's work online, visit AnnaSchalkStudio.com.