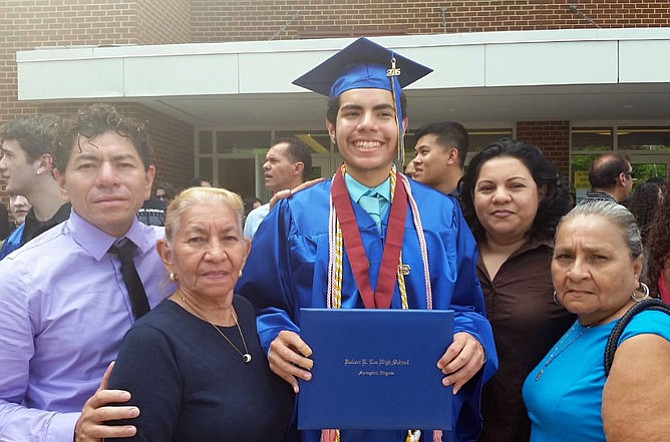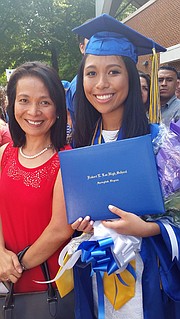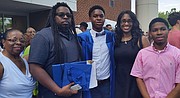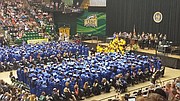 The more than 400 seniors graduating from Springfield's Robert E. Lee High School Thursday, June 16, filled Eagle Bank Arena with their excitement. Parents, friends, family, school faculty, counselors and "Future Lancers," elementary school students expected to graduate from Lee, attended to support the graduates and join their cheers.
2016 marked Principal Deirdre M. Lavery's second year with Lee High School. This class was particularly notable to her in how the class gives "a real sense of being one and having each other's back. It's a really unified class and you can see it…"
This was echoed in Maria Rizo's Graduate Address "We grew up together as a class and made friendships that will last a lifetime. We've emerged as a team, a family that can never be separated."
A variety of awards were handed out. The faculty award is the highest award given to graduates from the faculty. It represents service to the school and community, citizenship, the highest ideal character as well as a 3.0 GPA in each year. It was presented to Scott Gilbert and Bethel Elias.
Lee High School also had multiple accomplishments in music and athletics. Numerous students were selected for district honors orchestra, band and chorus. The field hockey, cross country and competitive cheer and football were all notable in their conferences and 219 students in the graduating class took at least one International Baccalaureate course, high-level courses specially designed to encourage critical thinking.
Ryan McElveen, School Board Member-At-Large, who elicited numerous laughs during his commencement address, noted Lee High School as one of the most diverse schools in Fairfax County. McElveen lauded the community at Lee and its acceptance of students of a variety of backgrounds. He reminded graduates of things they will be facing and will need to work to overcome. That "this generation will need to continue fighting the world of the past… America is lost and we are counting on you to restore it. The fight for the future is a battle of love and hate and love always wins…"
Maria Rizo's Student Address answered well, "The greatest gifts we have received are the lessons from our teachers that we will use to change the world… we must never stop striving for greatness and never give up, because we are the future. Today is the beginning of anything you want."