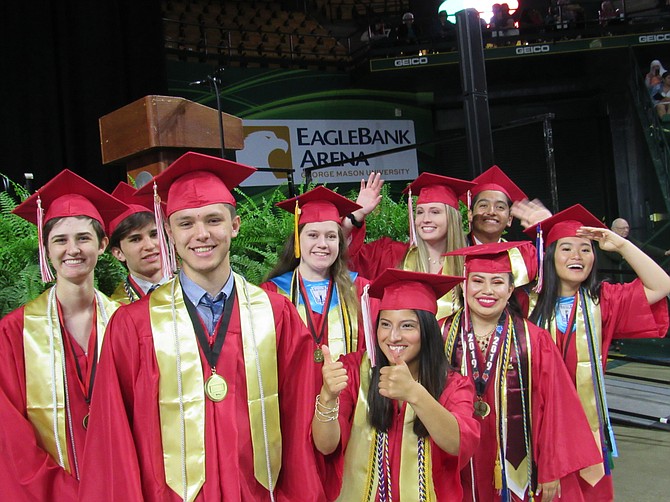 The 458 members of the Herndon High School Class of 2019 entered George Mason University EagleBank Arena for their Commencement ceremony smarter, stronger and more confident than ever.

"Even if all of our dreams are different, we all had a desire that kept us going no matter the circumstances...we'd fight for it, we'd work day and night for it, we'd give up our time and our peace for it," said Michelle Tran Senior Class Councilmember in her Opening Remarks during the June 12 program. Members of the Senior Class Council, Cristian Lainez, Sari Levine, Angelina Margraf, Joseph Parodi, Kelsey Rogers, Sebastien Roy (not pictured), Alison Stern, Amberly Silva-Arriaga, Ellie Wichman and Michelle Tran presented the program.
Assembled before Tran sat her fellow classmates, each with a different dream, for Omari Annan, military service; Marlon Rivera Guardado, work force; and Daniel Saunders, college.
DR. LIZ NOTO, Principal of Herndon High School asked students in the Class of 2019 who had chosen to support the United States through military service to stand and be recognized. She also recognized students in the Class of 2019 who were academic scholars, members of the National Honor Society, Distinguished Scholars and Honor Graduates.
Noto said, "These are our best and brightest and have participated in every aspect of student life ...The Class of 2019 has received over $3.5 million in local and college scholarships. Their talents have enriched our lives and have helped Herndon High School to excel in many areas."
As is customary, the Senior Class presented the school with a class gift. Cristian Lainez said that his fellow classmates faced several hardships and sometimes they just wanted a place to sit down. "That's why this year the Senior Class is presenting new furniture for the soon-to-be-built senior courtyard … a nice place to eat lunch and relax without the rowdy noise of the cafeteria," he said.
Eleanor "Ellie" Wichman and Joseph Parodi recognized retiring faculty members Abby Maginn, 23 years; Doran Smith, 16 years; Meta Smith, 19 years; Jim Hull, 48 years; Todd Liebenstein, 30 years; and Maria Sneed, 35 years.
Next, Noto awarded the highest honor by the faculty of Herndon High School to a graduating Hornet she described as "a very caring young woman." She said, "It is obvious that people gravitate towards her kindness and seek out her support...She has demonstrated compassion, dedication and commitment to these two clubs (Best Buddies and Interact)." Noto presented the award to Lydia Goff.
Joseph Parodi introduced retiring Herndon High School faculty member and Guest Speaker, Todd Liebenstein, otherwise known as "Coach Liebenstein." In his address to the Class of 2019, Liebenstein noted the special historical position the class held prepared them for the changes and challenges ahead.
LIEBENSTEIN said that when he pondered what "words of wisdom" to share with the graduates, his eyes went to words on his classroom whiteboard. "My mantra," he said taken from Dr. Duck, his Education professor. "It is three simple words: Effort Assures Success," Liebenstein said. He qualified that 'success' depended on its definition. "That if you try your best, that alone, the act of giving your all, should give you a sense of satisfaction, a sense of achievement or in my words, success," Liebenstein said.
Nearing the commencement conclusion and the moment all awaited, Krisna Taylor, Director of Student Services addressed the distinguished guests, families and friends. "It is my pleasure to present to you the candidates for diplomas in the Herndon High School Class of 2019." One by one Noto, Taylor and the assistant principals presented the diplomas to the candidates.