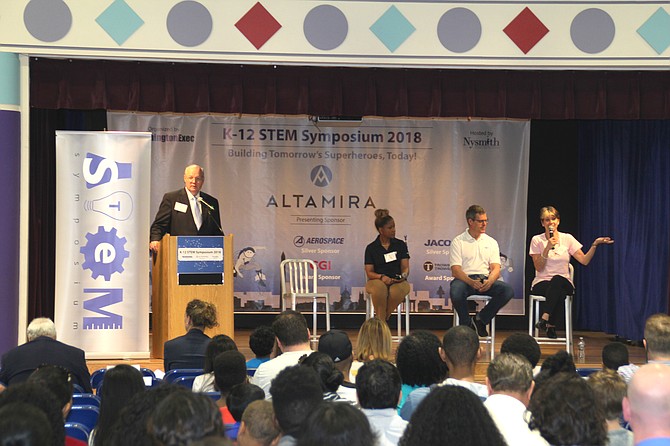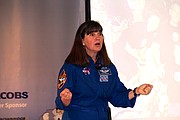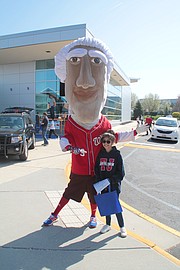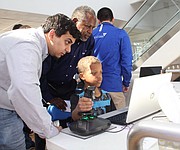 On Saturday, April 14, WashingtonExec hosted its fifth annual K-12 STEM Symposium at The Nysmith School in Herndon. The event attracted nearly 4,000 students, parents, industry leaders, government officials, non-profit executives and educators.
Attendees enjoyed Altamira's "Girls in STEM" interactive wing, Vencore's flight simulator and a variety of other interactive exhibits. Among the biggest hits were the virtual reality showcase, 3D printers and slime creation stations.
In addition to the displays, attendees had the opportunity to hear from former NASA astronaut Cady Coleman, NASA Chief Information Officer (CIO) Renee Wynn and other STEM Superheroes.
New to the Symposium's programming this year, WashingtonExec presented several awards. The STEM Rising Star award was presented to Kavya Kopparapu and Kirthi Kumar, students at Thomas Jefferson High School for Science & Technology. Anne Swanson, U.S. education and workforce development coordinator at CGI Federal was named Most Inspiring STEM Executive of 2018. Boolean Girls, a non profit dedicated to educating girls to code, build, invent and animate took home STEM Non-Profit of the Year, while Business Women's Giving Circle and Northrop Grumman were awarded Best STEM-Supporting Businesses of the Year.
This year's WashingtonExec K-12 STEM Symposium brought together key players in the STEM field to enthrall students with the science and technology they learn in their classrooms. Elevating STEM education through events like WashingtonExec's K-12 STEM Symposium spurs the national conversation among leaders, parents and students about STEM's increasing importance to the future.