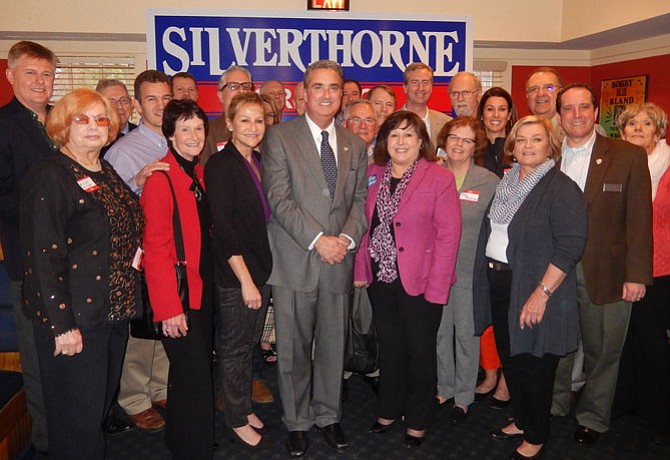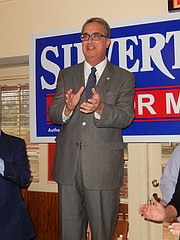 Before an enthusiastic crowd of some 150 people, City of Fairfax Mayor Scott Silverthorne officially kicked off his reelection campaign, Sunday afternoon, at Red, Hot & Blue. He has already served two terms and is seeking a third.
Referring to the City Council, he said, "It takes a team, and we've gotten a lot done in the past four years. And it's been an honor and a privilege to serve as your mayor."
A slew of well-wishers turned out to support Silverthorne, including past and current City Council members, Del. David Bulova (D-37), State Sen. Chap Petersen (D-34), Fairfax County Board of Supervisors Chairman Sharon Bulova, Braddock District Supervisor John Cook, Herndon Mayor Lisa Merkel and Vienna Mayor Laurie DiRocco.
Fairfax County Sheriff Stacey Kincaid noted how well the City and county have worked together in partnership on various projects. She listed Silverthorne's support of the child I.D. program and the Shiloh Project, pairing animals with at-risk youth.
"He also signed one of the toughest anti-tethering laws in Virginia," she said. "And the Sheriff's Office is working with the Fairfax City police chief and Mayor Silverthorne on the Diversion Program that diverts people to mental-health treatment, instead of jail, when possible."
Last year was a tough one for him because he had to deal with personal financial problems, as well as a cancer diagnosis. He had a malignant tumor on his neck and underwent radiation and chemotherapy, but it never affected his duties as mayor and he is now done with treatment and is cancer-free.
"I'm proud to give my support to Scott because he's a wonderful person and a fantastic friend," said Kincaid. "And what happens to him personally doesn't define who he is."
Former City Councilman Steve Stombres stressed that, "In the City of Fairfax, we put aside partisan politics. I believe Scott Silverthorne is the person to lead us as mayor. He's faced some difficult times recently, but I believe adversity reveals character, and he showed the resiliency that allows him to face tough times. [And in a mayor], we want someone who's been tested personally and professionally to make tough decisions."
Stombres said that, when he was on the City Council, "We didn't agree on everything, but Scott always listened to my point of view and to the citizens, and he brought together residents with differing opinions. He was tough, but fair, doing what's right for the community. He's a natural leader; Scott has a vision for the City and knows how to get things done. We need Scott to lead us in this community, and I'm proud to support his re-election effort."
Then, addressing the crowd, Silverthorne thanked everyone for coming to his campaign kickoff and also praised Petersen and Bulova for all their efforts in the General Assembly on behalf of the City.
"This is the best, small city in America," said Silverthorne. "It's well-managed and fiscally responsible and has a triple-A bond rating. The [real-estate] tax rate has only gone up one penny since I've been mayor. And in transportation dollars, we've received $20 million over the last few years in NVTA funds."
He said the City's rewrite of its Comprehensive Plan will be "the most important thing we're doing, going forward. It's the governing blueprint for the City's future and we've got to get it right. We've got to grow our local economy, and we also need to build sidewalks, more complete streets and a great trail network because they're all important to the City's quality of life."
Pleased to have put cancer in the rearview mirror, Silverthorne said, "I got a clean bill of health this week from my doctor, which is good news, and I'm up to the task [of being mayor]. We have a great team, and I have the energy, drive and experience to get things done."