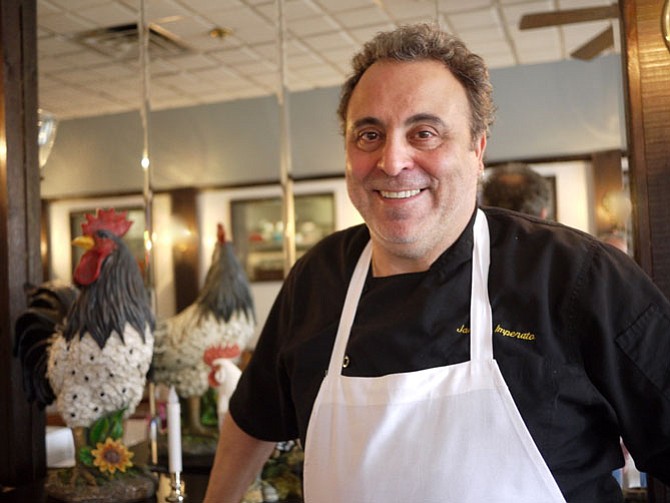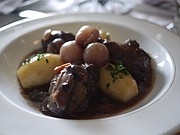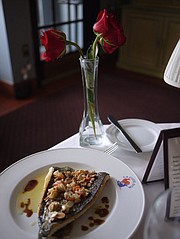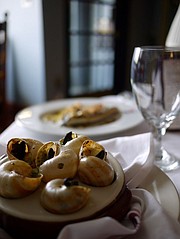 La Côte d'Or, on the border of Falls Church and Arlington, has a new owner. The restaurant was purchased in February by Chef Jacques Imperato. Imperato has been owner-chef of three other restaurants in Northern Virginia. Some residents will remember Imperato from his restaurant, La Mediterranee which was across from the Cherrydale Fire Station from 1996-2003, or even earlier, Chalet de la Paix which he ran from 1981-1987 in the Lee Heights shopping center.
"The name La Côte d'Or reflects the department in Burgundy where the south-east facing Cote d'Or escarpment is the site of the celebrated Burgundy vineyards. The name 'Côte d'Or' stems from sun lighting up the vineyards during autumn and turning them gold," said Imperato. "And yet, there were very few real Burgundy dishes on the menu." Now, Imperato has put the classics back on the table. Snails or escargots done the Burgundy way, along with frogs legs, Beef Bourguignon, Foie Gras, and Coq au Vin. Steak Tartare, is back and, the chef said, "It's done the right way:" cut up beef, not ground; with a few secret ingredients. "When we opened two months ago, we might get one Steak Tartare order a day: now we get three."
Imperato has already fired six of the sous-chefs who have come through his kitchen. He complained they did not know "even the basics" of making a good sauce. Chef Jean Marc Drimille, who has been with La Cote d'Or for the past 13 years, will still head up the kitchen, but Imperato has refined some of the menus according to his own style, and will be in the kitchen.
Imperato says when he interviews a new chef, he asks to meet them at the front door, outside. "Why?" he asks. "Because I want to know if they have read the menu posted at the door. If not, the interview is over. Then, I ask them if they like food." They have to love to eat, love to taste, love to cook. "And lastly," he said, "I ask them what kind of food they like." He laughs. "Most of the chefs I interview don't get it: they expect me to ask questions about where they went to school, or technique. But that's not what I look for."
Imperato has been cooking for 41 years. He attended culinary school in Nice, France, and has worked with chefs in the Côte d'Azur area. He trained with Alain Ducasse. Imperato has worked at Washington, D.C.'s Maison Blanche, Le Lavandou, and Tiberio.
Imperato is passionate about French food and believes the popularity of this cuisine in Washington, D.C. suffered when people started to cut calories and carbohydrates. As a chef at Tiberio, Imperato himself was shocked at the caloric value of some of the dishes. That is why in his new restaurant, he makes an effort to make sauces gluten free, with corn starch not flour, and to use more olive oil than butter. He puts so much "flavor" in his food, derived from herbs and fresh ingredients, that salt doesn't have to be the main ingredient. And Imperato looks for sustainable and responsible fisheries. His salmon is from the Faroe Islands, his fish primarily North Sea because he trusts their methods, and he won't work with companies that send him under-sized fish. He will carry the more exotic fish: sea urchin, red mullet, langoustines, and ray.
"I'm going to bring classic French cooking back to Arlington," Imperato said, "keeping the restaurant in the same general Burgundy area of cuisine, until my clients trust me fully; then, I'll become more innovative."
The wine list has increased already to 22 wines, 14 of which are Burgundy. Imperato hopes to have wine tastings on a regular basis.
For more information, or to be put on the restaurant's mailing list to receive a daily specials email, write to: lacotedor@verizon.net or visit them at La Côte d'Or Café, 6876 Lee Highway, Arlington, 703-538-3033 or www.lacotedorcafe.com.