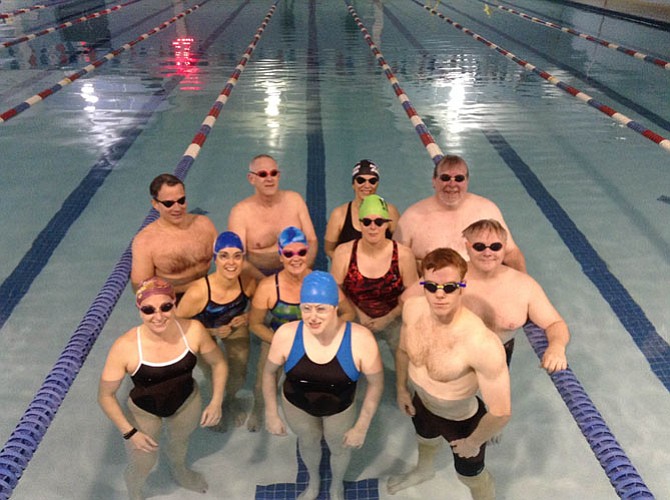 Adult swimmers paddled precariously up and down the lanes, their vision obscured by blacked-out goggles. Some were able to feel their way forward without much course-correcting, others bounced between the lane lines like pin-balls.
When it came time for 33-year-old Michelle Duquette's leg of the relay, a tennis ball-capped rod tapped her head and she sped off through the water -- with clear goggles.
Duquette began losing her vision when she was 13. She was completely blind by age 21.
"Swimming was the only sport I could do anymore," Duquette said.
Duquette and her mother Bobbe come to the Burke Racquet & Swim Club because the pool's configuration allows Bobbe to walk alongside while she's swimming and quickly give her a tennis-ball tap when she reaches each wall.
For the second year now, Michelle and Bobbe have organized a "Swim Like Michelle" fundraiser at the club. She was joined by members of the L4 Swimming masters program, with whom she practices several times a week, for the event on April 28.
The money adds to Michelle's other fundraising for the Foundation Fighting Blindness. Michelle was recognized as an All-Star at the foundation's Northern Virginia VisionWalk on May 1 for raising more than $1,000. Her total this year: $3,200.
For more information, visit www.fightblindness.org.