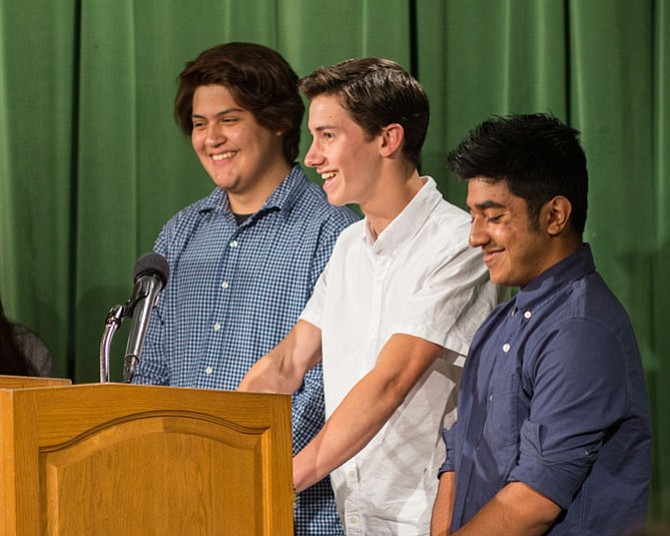 "Rubaiyat, Drew, and Jonathan? Worked with them for three years, and in those past three years I have seen them grow." That's what Vilma Zefran, the TV Production teacher at T.C. Williams High School, said about the students that stood before her. On Tuesday, May 24, Andrew Jones, Rubaiyat Rhidoy, and Jonathan Ibarra, TC seniors, were presented with awards for honorable mention in the 2016 High School StudentCam contest.
The contest, hosted by C-SPAN, encourages middle and high school students to think critically about issues affecting both individual communities and the nation at large. This year students were asked to create a documentary video on the topic "Road to the White House: What's the issue YOU most want candidates to discuss during the 2016 presidential campaign?" Of the 2,887 video submissions 150 student prizes were awarded, totaling $100,000 in prize money.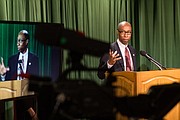 "It's a great way just for students to get involved," said Vanessa Torres, the C-SPAN representative that presented the awards at TC, to "have that experience in-front of the camera, behind the camera, also get them involved in local and national issues."
Mayor Allison Silberberg also made an appearance at the award ceremony, as well as Philip Davis, a constituent liaison for the office of U.S. Rep. Don Beyer (D-8) who awarded certificates of achievement to the students.
The students' winning documentary, "The Cost of Justice," details the use of for-profit prisons in America, how they receive money, and what they're spending it on such as backing congressional candidate campaigns. "It's sort of something that doesn't get a lot of attention on the national stage," said Jones, one of the winning students, "C-SPAN also has a video that we used … it was a similar company about private immigration detention facilities, and there's often an overlap between those facilities and the for-profit prisons for criminal punishment."
The three seniors, along with other TC students, are working on a new documentary about Noah and Josephus Lyles, the two fastest high school sprinters in the nation, which they hope to release in August.
"We teamed up with them as well as their mom," said Ibarra, "who's their manager and was coordinating the different track meets that they're going to at the state level, national level and also getting kind of like an insight into their personal lives as well."
All three of the students are graduating this year, so this could be their last time working together. "Potentially, we want this to go beyond just covering the Lyles brothers. We want to create a T.C. Williams documentary team every year that has more opportunities like this," said Jones, "We're trying to expand into every type of social media we can think of, a lot of people in the area know about the Lyles brothers because they're an inspiration I guess … but we're trying to also call attention to ourselves and the [documentary] team."
Despite their efforts, the students still have one issue, "I guess our biggest road block is the funding right now." said Rhidoy. The students are planning to fly to Oregon for the 2016 Olympic Track & Field qualifiers in July, but they have to pay for the expenses out of pocket. As of May 24 the students are 18.6 percent of the way towards their $5000 goal.
"As their teacher and their mentor," Zefran said, "I am just so proud of them."
Watch "The Cost of Justice" at StudentCam.org/winners16 under the Honorable Mentions section. Visit TCTitanDocumentaries.com to view the promotional pieces for the upcoming student documentary "Race to Gold" or donate to the students' GoFundMe page at www.GoFundMe.com/4ntee9wg.