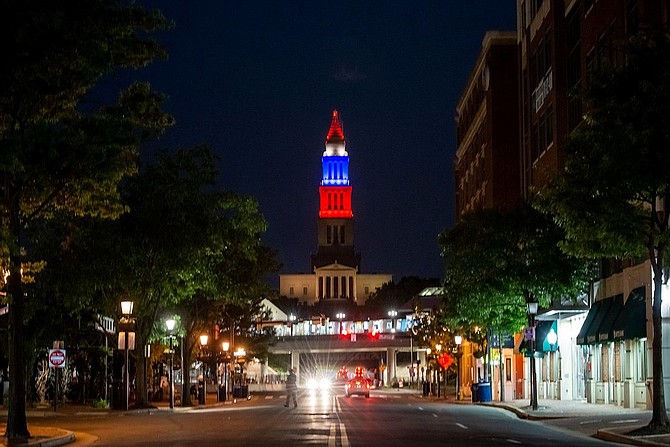 It wasn't the graduation ceremony the senior class expected when the school year began in September, but across the city students and families celebrated June 13 as T.C. Williams High School held a virtual graduation ceremony for the Class of 2020.
"Our sudden school closures in response to a worldwide pandemic is simply unprecedented and has thrown us all into a new way of living with almost no notice," T.C. principal Peter Balas said in his commencement address from the school's Parker-Gray Stadium. "But you have done it and still made it here today, your graduation."
Several speakers addressed the graduates, including ACPS Superintendent Dr. Gregory Hutchings, class president Amiya Chisolm and 2016 graduate and U.S. Olympian Noah Lyles, who proudly displayed his graduation cap that he had decorated with the Olympic rings.
"I bet you didn't see yourselves graduating like this," said Lyles, a two-time world champion track and field athlete. "I'm sure you wanted to give hugs and high fives after this 12-year journey. But the class of 2020 is courageous, relentless. You were born for times like this."
Lyles shared with the graduates some of the adversities he faced in his quest to become a professional athlete.
"I was born with severe asthma," said Lyles, who turned pro directly out of high school. "Can you imagine a track athlete with asthma? But I persevered. I wanted to make a whole new path for myself."
Lyles also spoke of his dyslexia, ADD and experiences with bullying.
"It wasn't an easy path," said Lyles. "But I didn't want to be another child who just goes through the motions. I wanted to create my own destiny and facing those adversities is what got me here today."
Following the online ceremony, graduates gathered in small groups to celebrate with family and friends.
"It was nice being in the comfort of our own homes, but also really weird not being able to be around our classmates," said Pierina Echevarria, who met friends Nawal Gaal and Glenda Cabrera at the George Washington National Masonic Memorial following the ceremony. "That was sad. But we've done our best to stay in touch with texting and FaceTime."
As part of the ceremony, a documentary of the Class of 2020 was shown, with seniors answering the questions "What do you love? What do you fear? What do you hope for?"
"I, like many of you, am saddened by the fact that we are not together today as one TC family to hand off diplomas, shake hands and hug," Balas said. "Our current reality simply will not allow for that at this time. The Class of 2020 has endured so much, and we wanted to put together this production to honor and celebrate you as you graduate today."
Balas spoke of the challenges posed by the COVID-19 pandemic as well as the recent nationwide protests against racism.
"I discuss this with you today, on a day of celebration, because it is the right thing to do," Balas said. "Your generation has the power to change the world as we know it. Use your strengths to become agents of change and participate in productive action that will result in our country instituting justice that has been so elusive for 244 years."
Balas quoted Dr. Martin Luther King, saying "true peace is not merely the absence of tension, but the presence of justice," before offering his closing remarks.
"I look forward to the day when we can see each other again and plan future events to make up for what you have lost," Balas said. "Today marks the end of one era and the start of a new one. I can promise you that the Class of 2020 will always be remembered."