From a successful food truck to a fabulous bakery in McLean, owner and baker Sandra Panetta has taken sweet eats to a new and yummy level at Sweetbites. Thus, it is no surprise, for example, that her outstanding sticky buns, gooey with a cinnamon-butter spread and topping, sell out almost as soon as these are out of the oven. "We need to make more," said a staff member.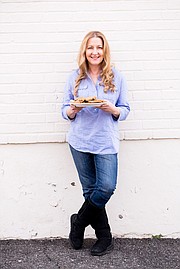 So why McLean and what happened to the food truck? Panetta explained that city food truck regulations had become stricter over time. "More than 400 food trucks operate in D.C.," she said, "and the new regulations allow only 100 parking spaces. We were put on a lottery system. So those of us who had a truck from the beginning were just thrown into the system with all others."
As it happened, her operating days diminished, and Panetta needed a new setting that offered regular hours and a regular flow of customers and a regular chance to offer her cupcakes, pies, cakes, brownies, lemon bars, chocolate chip cookies, muffins, scones, and, of course, the sticky buns. So about one year ago, she found this small coffee shop/café setting, and business has boomed ever since. Of course, it helps that she is on the ground floor of an office building, so upstairs staff have an easy time of grabbing coffee and sweets.
What makes her story one of such success stems from her history: "I am self-taught," she said. "I started about 16 years ago as a second career. I was slowly letting go of my first career as an environmental policy analyst. I got caught in the cupcake wave, so I combined that with the food truck wave." She experimented with other sweets, but found that most customers wanted only cupcakes. To make them happy, she developed about 50 different cupcake flavors. "People lined up for hours waiting for their cupcakes," she said. The reception of her baked goods was—and is now—overwhelming.
When patrons step into what is really more than a bake shop—we offer breakfast and lunch and offer soups and sandwiches and freshly brewed Illy coffee—what will first impress them is both the baking aromas and the glass cases filled and topped with Panetta's goodies. All are made fresh daily, she said, and all are made from scratch—no packaged mixes here.
Desserts change so often, she said, that she and the staff often figure out what to bake the next day, so they bake what they are in the mood for. What are the most popular, if not everything? She lists the lemon bars (called Not Your Average Lemon Bar) because the bars contain the entire fruit, rind and all; the fresh biscuits; the brownies (fantastic); and the chocolate chip cookies that people fight over. Other offerings include such comfort desserts as the pineapple upside down cake, fresh cream puffs, and a tres leches cake.
In the end, regardless of the time of day, patrons will find it hard to depart with nothing more than bottled water. Why not a handful of cookies and brownies—or a wedge of cheesecake—for that splurge?
Sweetbites Café and Bakery, 6845 Elm St., McLean, 703-448-1115. Hours: Monday-Friday, 7 a.m. to 5 p.m.; Saturday, 8 a.m. to 2 p.m.; Sunday, closed. http://www.sweetbitescafe.com
Sweetbites Chocolate Chip Muffins
Makes 12 jumbo muffins
Ingredients
3 cups all-purpose flour
1 and 1/2 tsp. baking powder
1 tsp salt
1/2 tsp baking soda
2 sticks unsalted butter
2 cups granulated sugar
4 large eggs
1 cup sour cream
1 and 1/2 Tbsp. Madagascar Bourbon pure vanilla extract
1 and 1/2 cups good quality dark chocolate chips
Turbinado sugar
Method
Preheat oven to 375 degrees.
Line a jumbo muffin tin with liners and set aside.
In a bowl, whisk together the flour, baking powder, salt and baking soda.

Beat butter on medium speed until lighter in color. Gradually add sugar and mix for another minute. Reduce speed to low and add flour in two additions, alternating with the sour cream. Add the vanilla and mix until just blended.
Gently fold in chocolate chips. Evenly divide into liners and sprinkle lightly with turbinado sugar.

Bake for about 25 minutes, until golden brown and springy to the touch.
Cool in pan for 5 minutes before removing to a rack to cool completely.