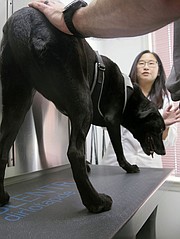 "Gracie?" Dr. Sophia Chiang walks out into the waiting room at VCA Alexandria Animal Hospital on Duke Street looking for a black lab. Chiang says, "We always call the animal's name since they are the patient." Graeson Infelise (Gracie) remains under the chair of her owner, refusing to be coaxed to the exam room. Her owner says, "She likes it here, I swear."
Chiang explains Gracie has come in today for a wellness exam, vaccinations and a check of her paws. Chang has reviewed Gracie's records and vacuumed and sprayed the exam table. Gracie's owner and Chiang slowly and gently convince Gracie to step onto the exam table and with the press of a lever it slowly raises up to a working level.
"I always start by asking the owner how the pet is doing." Gracie's owner says since they moved to Quantico three years ago every year at the same time the dog has had issues with her paws. I'm guessing allergies." He continues, "We give her Benadryl every day." Chang reviews the chart. "Yes I can see Gracie had the same issue at almost exactly the same date last year and the year before. Allergy is a good guess. How much Benadryl are you giving her?" She adds, "We may not need to do allergy testing if the medication works."
Then Chiang starts by taking a look. "Let's see what her weight is — 59.2 pounds. Good, close to last time. It hovers around 60." She says each vet has their own particular order for an exam. "I start with the eyes, then nose, mouth and teeth. The ears look fine. Sometimes when dogs have an allergy it also shows up in the ears."
"The lymph nodes feel normal, and she has a nice steady heart beat, no heart murmur to worry about. What does she eat? She looks good and healthy." The answer is: "Chicken soup for dog lovers. My wife heard about it somewhere and so that's what she has to get." Since Gracie is 7-years-old, she is considered an early senior, which means time for routine blood work.
So on to the paws. "You're right; the right back paw is the worst. So what do we do?" Chiang says they could give Gracie something by mouth but it would be systemic for all of the paws when only one paw is the primary target and it could also affect the tummy. It would be one step above an antibiotic with a low dose steroid. "Or you could use topical wipes." They decide to stick with that approach for now.
They move on to discuss the vaccinations. Today lepto, rabies, influenza, and an oral ITB for kennel cough. Chiang explains there is a new strain of flu that can affect dogs; flu morphs like it does in humans. A vaccine has just been developed for the second strain. She said they could give Gracie shots for both strains. "But I like to assess the exposure to dogs in enclosed areas and have a conversation about the best option for each dog." She said in general most of the vets don't recommend vaccinating for every strain of flu because the risk is fairly low. But there could be that one dog. "But we like to discuss this with each owner."
Gracie moves to "the green room" where she will get her vaccinations while Chiang types up her notes on the appointment. Khalfani Carr holds Gracie while Brittany Gates gives the oral ITB for kennel cough. She will draw blood from the back leg veins for a heartworm test where the blood is put in the centrifuge to separate the cells from the serum. Chiang says, "We always say it's all about the success of the holder. Khalfani's gentle hug." Both Carr and Gates are vet assistants studying to be veterinary techs.
Chiang sees patients Tuesday, Wednesday, Friday and every other Saturday with surgeries scheduled for Thursdays. Wednesday is a 12-hour day. Yesterday she said she did spaying and neutering and a couple of dental surgeries with cleaning and extraction. She said taking out tumors is very common with biopsies and repairing wounds are also frequent surgeries. Probably the most complicated is an FHO (femoral head osteotomy) where the head of the femur is removed. "It is considered a last resort treatment based on trauma." She says most doctors there are proficient in many areas including basic emergency medicine. But they have some specialty day and night emergency doctors and an intensive care unit in their hospital.
Chiang has worked at VCA Animal Hospital for 10 years and says it is gratifying that "I can take care of animals and especially because I can see many puppies from the beginning to the end of their life.