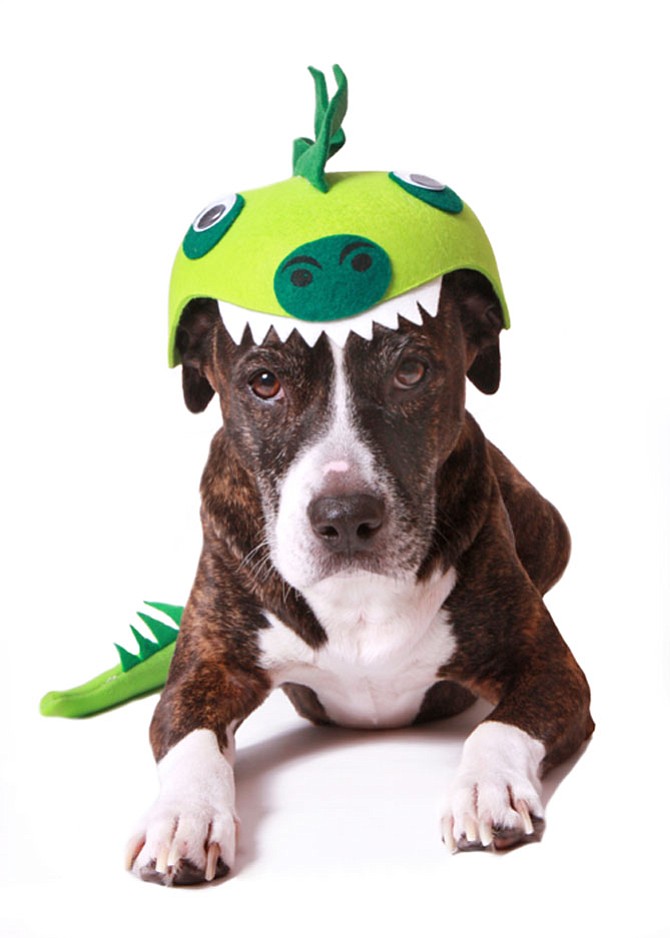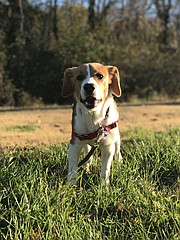 By the time the clock started counting down, it was a clear runaway. Charismatic canine contestant Zoey had received far and away the most votes in the Animal Welfare League of Alexandria's (AWLA) 2018 photo calendar contest, and she was named the 2018 Alexandria Animal of the Year.
Zoey's mom is a professional photographer, and she knew how to make her girl look her best. Though Zoey lost a leg in 2014 to osteosarcoma, she looked good from every angle, and she had a wardrobe to match her many good sides. According to her mom and owner of AWLA Animal Friend Dirty Paws Photography Sabrina Moore, "She pretty much ruled the house with what she wanted to do." Still, sometimes Zoey would play along and allow her gorgeous visage to be photographed in all manner of costumes, holiday or every day, zany or serious.
If your canine companion is as interested in dressing up as Zoey, then we invite them to register today for the 2018 Fun Dog Show, hosted by the AWLA and the Ballyshaners on Saturday, March 3, at 11 a.m. Along with categories of Best Costume and Most St. Patrick's Day Spirit, the audience will be voting for the Most Talented and the Best Owner/Canine Look-Alike, so whether your dog likes a good costume or is strictly fur-only, you are invited to join in on the festivities. Well-behaved dogs of all shapes and sizes are invited; for human and canine safety, they must be on non-extendable leashes of 6 feet or shorter. Register today at AlexandriaAnimals.org/DogShow2018.
Zoey would have loved to preside over the 2018 Fun Dog Show in her finest apparel (or maybe not!), but unfortunately, she passed away in fall 2017 after a long fight with the cancer that took her leg years earlier. Moore and all who knew her remember Zoey as the most strong-willed, dignified and lovable dog. "Not a day goes by that I don't miss her," Moore says. The AWLA and her many fans will continue to honor her throughout the year as Alexandria's Animal of 2018, and her memory will be echoed through the many well-dressed pups competing in the Fun Dog Show alongside her calendar-winning photo.
ALEXANDRIA RALLIES AROUND INJURED BEAGLE PUP
In late September, a beagle-mix puppy was brought to VCA Alexandria Animal Hospital, one of the Animal Welfare League of Alexandria's (AWLA) Animal Guardians, by a kind citizen. The dog, whom the shelter called Bastian, was about 7 months old and had suffered severe damage to his jawbone. It was not known if the injuries came from a car accident, an attack by another animal or something worse, but it was plain to see that the puppy was in a lot of pain and would need urgent — and probably expensive — care.
After visiting a dental specialist at the Animal Dental Clinic, it was determined that Bastian would need to undergo not one but two surgeries: the first as soon as possible to stabilize his jaw and the second several months later, when Bastian's adult teeth started to come in. The AWLA shared Bastian's story with the Alexandria community, and the response was nothing short of amazing.
The costs of Bastian's surgeries were outside of the AWLA's standard budget, which is why their Sarah's Fund was created: It helps the shelter pay for emergency surgeries, costly prescription treatments and life-altering therapies that go beyond the basic medical costs. After the AWLA shared Bastian's story with the community, supporters pledged more than 150 individual donations of all amounts, enough to help support Bastian's surgeries and aid even more of Alexandria's Animals.
Bastian's first surgery was scheduled only days later, and while he waited for his adult teeth to grow in so the second surgery could take place, he enjoyed all the love and mushy food he could get in the home of an amazing foster caregiver. In December, the dentist extracted several of his adult teeth and declared Bastian's jaw healed, and he was ready to find his home. He would always have some special medical needs because of his early trauma, so the AWLA developed a special application for potential adopters to make sure they were prepared to handle the appointments and expenses associated with his care. From a pool of many amazing candidates, the perfect adopter was found in early January. After his long journey, where he found so many friends and supporters, Bastian was finally home.
If you would like to help the Animal Welfare League of Alexandria be prepared for medical emergencies like Bastian's in the future, or to help them address animals in their care now who have chronic medical conditions, please consider making a donation to Sarah's Fund at AlexandriaAnimals.org/donate.
The Animal Welfare League of Alexandria, which operates the Vola Lawson Animal Shelter on contract with the City of Alexandria, is an independent, local, 501(c)(3) non-profit organization. More information is at AlexandriaAnimals.org.