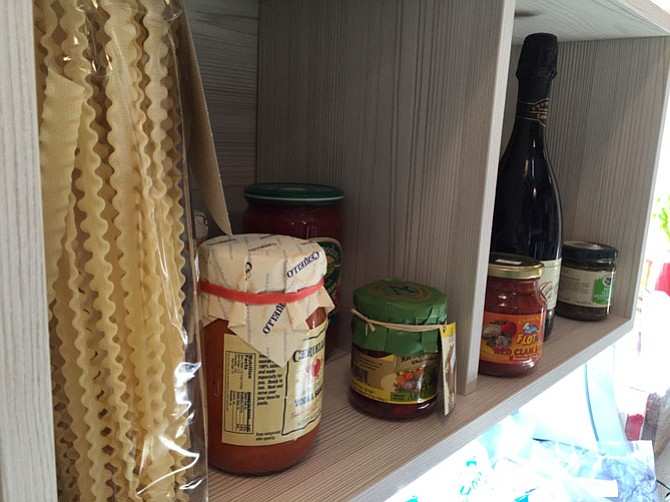 When it comes to international cuisine, Old Town is no slouch. Mexican, Thai, and sushi, just to name a few, find themselves well-represented within the community. But unlike some cities in the Northeast, where bodegas and international markets dot the landscape block by city block, the realm of Italian markets has been sorely lacking in Alexandria — until now.
Enter The Italian Place, a labor of love launched by Adriana Penachio-Sifakis and her family. Opened on Sept. 8, the cozy market at 621 Wythe St. has already developed a following, welcoming visitors in daily with freshly made breakfast and lunch offerings — and a plethora of take-home supplies for dinner.
"My husband and I travel to New York City a lot," Penachio-Sifakis says. "… Every time we go, we go to Eataly — it's Mario Batali's establishment — and we're just fascinated by what he's done. So we figured we'd bring that to Old Town — a little taste of it — and being Italian-American myself, growing up in Boston, you see this everywhere. In the Northern Virginia area, there's not enough. So I felt like this community needed it, and it's been wonderful because they love it."
In a world that tries to be all things to all people, The Italian Place has found its niche — and its customer base.
"We're a small gourmet market. We introduce new products every day; we have everything from fresh-filled cannoli with Sicilian sheep's-milk cream flown in from Italy to bombolinis, which is an Italian-style donut filled with cream that we ship in from Milan," Penachio-Sifakis said. "We warm it up in the morning with hot Illy coffee and they're delicious."
About 50 percent of the market's visitors are now repeat customers, Penachio-Sifakis says.
"The happiness, the joy, that this place has brought to the community has been the best part of opening The Italian Place," she said. "People come in and they're happy; people come in and they like the fresh bread — we have our bread baked fresh every morning by the Gold Crust Baking Company."
But The Italian Place isn't just for morning and noontime. On Fridays, Penachio-Sifakis and her team aim to kick the weekend off in style.
"We have a wine room. The wine room has a variety of Italian wines, a couple of Greek wines because my husband is Greek," she said. "… Every Friday from 5 to 7 we have free wine tastings, and all are welcome for that. … It gets people in the mood for a great weekend."
Beyond serving the community, what Penachio-Sifakis is proudest of is how her market came to fruition in the first place — and what it's teaching her three children, ages 12, 9, and 6.
"What makes me the most proud is showing my three children that I can work really hard and that I can balance it all as a working mom," she said. "… I think I'm teaching them a really good lesson that you can do almost anything if you put your heart and soul into it. And I have put my heart and soul into (the market) and they see that."
Hope Nelson owns and operates the Kitchen Recessionista blog, located at www.kitchenrecessionista.com. Email her any time at hope@kitchenrecessionista.com.
Details
The Italian Place, 612 Wythe St.
Hours: 8 a.m.-5 p.m. Monday-Thursday; 8 a.m.-7 p.m. Friday; 10 a.m.-2 p.m. Saturday.
Try This: The meatballs, says Adriana Penachio-Sifakis. "They're just delicious. They're all-beef, they have no pork filling, so they're a real tasty meatball with a very sweet marinara sauce. … That's what we make our meatball subs with and now we're packaging them to go for dinner, and we can't package them fast enough. People came in at 8 o'clock this morning and were asking for meatballs."