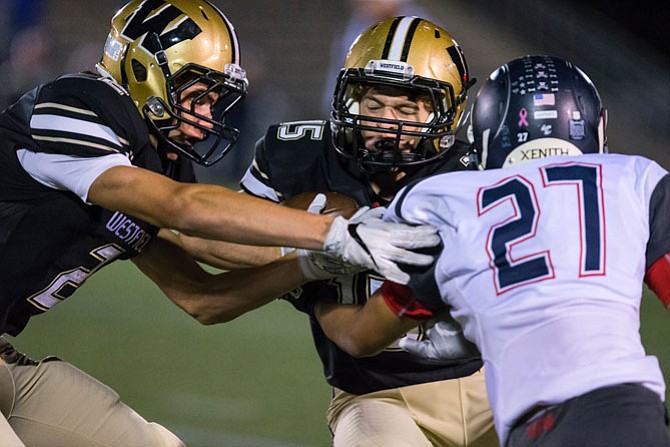 The Westfield Bulldogs and W.T. Woodson Cavaliers matched up for a first round playoff game on Friday night, Nov. 11, in Chantilly.
Westfield's Nathaniel Chung would open scoring for the Bulldogs on a 2-yard run. Later in the 1st quarter, Brian Delaney kicked a 31-yard field goal with 5:17 to play in the opening quarter which put the Bulldogs up 10-0. Sean Eckert would score his first of two touchdowns with 1:53, giving Westfield a 17-0 advantage after the first 12 minutes.
In the 2nd quarter, Westfield scored three touchdowns. The first,  when  Rehman Johnson ran 4 yards on the first of his two touchdowns, with 8:08 in the opening half. Nathaniel Chung would run in from 3 yards out with 3:43 to go in the 2nd quarter and Westfield then led 31-0.
Chung would carry the ball 12 times for 78 yards and two touchdowns. Westfield QB Rehman Johnson, would throw his second touchdown of the game with :20 to play in the 2nd quarter  to Sean Eckert. Johnson completed 9-13 passes for 177 yards and two TD's, while Eckert would score on two of his three receptions.
In the 3rd quarter Rehman Johnson rushed to the end zone from 7 yards out for Westfields final points, and a 45-0 lead.
W.T. Woodson would get on the scoreboard in the 4th when Daequan Williams ran in from 4 yards out. Westfield went on to win 45-7.
With the win Westfield improves to 9-2 and will host South County (8-3) winners over Battlefield 34-12.