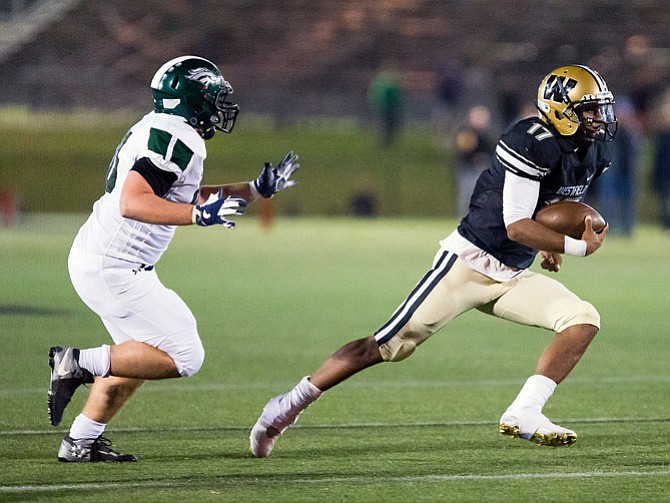 The Westfield Bulldogs and South County Stallions collided for the second time this season and fourth time in two seasons for a second round playoff game in Chantilly on Friday evening, Nov. 18. Westfield won the last two including the regional final 40-8 at South County last season.
After a scoreless 1st quarter, South County opened scoring with 11:43 to play in the 2nd quarter when Steven Ariquette kicked a 30-yard field goal. Later in the 2nd, Westfield kicker and UVA commit Brian Delaney tied things up when he kicked a 24-yard field to knot things back up. Eugene Asante would run in from 11 yards, with 1:36 in the half, to give the Bulldogs a 10-3 lead.
In the 3rd quarter, with 8:13, Delaney kicked his second field goal of the game to give Westfield a 13-3 lead. Later in the 3rd, Sean Eckert took a Rehman Johnson pass 76 yards for a touchdown with 5:00 to play in the 3rd. Neither team would score in the 4th.
Westfield improves to (10-2) and will travel to Madison High School on Saturday at 1:30 p.m. to play the Warhawks (11-1) who defeated West Potomac 21-14. The Warhawks' only loss this season came from South Lakes 21-13. South County ends its season at (8-4)