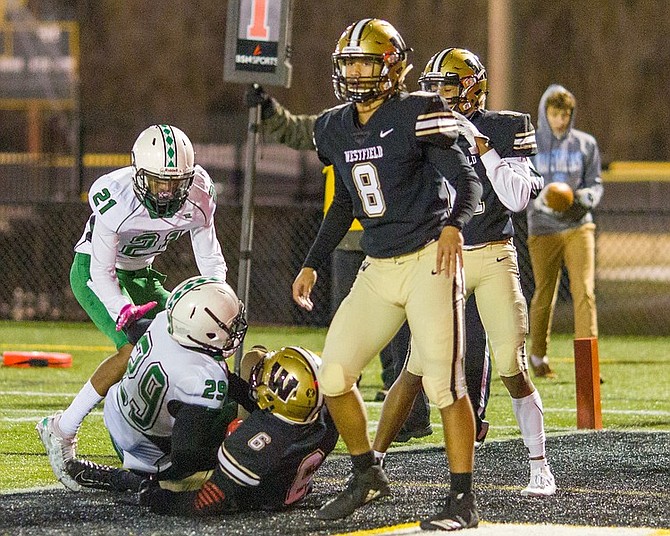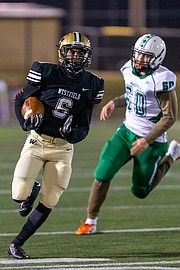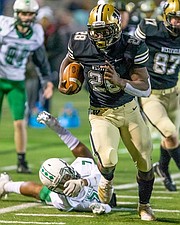 The Wakefield Warriors (5-5) took on the home team Westfield Bulldogs (10-0) in a 1st round playoff game on Friday, Nov. 15.
The Warriors would strike first in the quarter when Camron Johnson rushed in from about 5 yards out with 6:30 to play on the opening quarter and Wakefield was up 7-0 after a successful PAT. Avery Howard's 25-yard touchdown reception from Noah Kim and a successful PAT evened up the score at 7 with 4:35.
Mikal Legall would rush in for the first of his three running TD's from 3 yards out, just 5 seconds played in the 2nd quarter. Westfield would now take the lead for good,14-7. ET Bushra then took a punt return 55 yards for a touchdown with 10:10 to play before halftime, the lead increasing to 20-7. The PAT was unsuccessful. Alex Richards then took a pass from Noah Kim 13 yards for a touchdown, and again the PAT was unsuccessful. The score was now 26-7. Westfield's kicker Deshawn Paige then kicked a 29-yard field goal to increase the lead to 29-7.
Mikal Legall added his 2nd and 3rd touchdowns of the game in the 3rd quarter. The first came with 10:59 to play in the 3rd quarter. The second TD came with 6:32 to play in the 3rd, the score was now 42-7.
With the 42-7 win, Westfield (11-0) advances to the 2nd round where they will take on South Lakes (7-4).
South Lakes defeated Chantilly in double OT 43-40.
Wakefield ends their season at (5-6). Noah Kim completed 12-14 passes for 187 yards and 2 TD's. Mikal Legall carried the ball 14 times for 111 yards and 3 TD's. Alex Richard had 5 receptions for 94 yards and a TD. Avery Howard caught 5 passes for 76 yards and a TD.