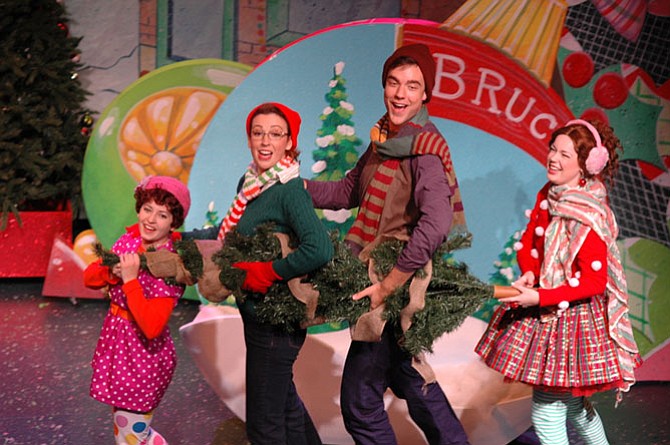 McLean — New Holiday musical entertainment for children and families is on its way to the Alden Theatre at the McLean Community Center. It is an energetic, colorful production with original music based upon the NY Times best-selling book "Fancy Nancy's Splendiferous Christmas" by award-winning author Jane O'Connor with illustrations by Robin Preiss Glasser.
"It is so easy to get caught up in the hustle and bustle of the holiday season and fall into the same routine," said Danielle Van Hook, director, Youth Theatre Programs, McLean Community Center. "This year, the Alden has scheduled a new production from New York's Vital Theatre that "is full of catchy music and an exciting reminder to all of us about what Christmas is all about—family!"

With a talented five-member cast, "Fancy Nancy's Splendiferous Christmas" takes "the beloved literary characters out of the book and places them in a larger than life set in front of the audiences eyes," added Van Hook,
The musical's book was developed by Carol Lustik and Matthew Hardy, with original music by multiple Emmy Award-winning Randy Klein, lyrics by Matthew Hardy. The catchy tunes are full of swing and pop music with plenty of charming kid and adult-friendly lyrics.
For those less familiar with the book "Fancy Nancy's Splendiferous Christmas," it takes a young girl, Nancy on a journey of discovery, learning and fun. She is very excited; she finally has enough money to buy a brand-new glittering Christmas-tree topper. You see, Nancy wants to make this the most fabulous Christmas tree ever. Alas, things don't go as she hoped and dreamed, at least to start.
Will Christmas still be splendiferous? For adults, please think of that O. Henry short story "Gift of the Magi" to know that things will work out for Nancy at the end. Christmas will not be ruined.
The production will be energetic, with a colorful set and costumes according to Van Hook. "Fancy Nancy's Splendiferous Christmas" is suited for children and, of course, parents and grandparents,

Awakening the imagination of a child is one of the missions of the Off-Broadway and touring Vital Theatre Company. The theatre troupe has received awards for its work. For its commitment to excellence, the company received recognition from the American Theatre Wing which produces the annual Tony Awards.
Be inspired and cheered by "Fancy Nancy's Splendiferous Christmas" to catch the bright spirit of the Holidays.