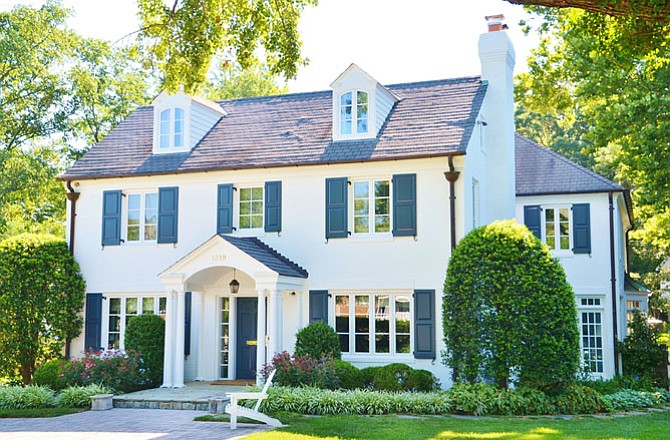 McLean — This year's 50th annual Holiday Homes Tour, on Thursday, Dec. 1, from 10 a.m. to 3 p.m., will focus on five homes, from a historic Colonial four large, unique houses on the north side of McLean. All five houses will be served by free shuttle buses leaving at 15-minute intervals from Trinity United Methodist Church, at 1205 Dolley Madison Blvd. and stopping for 15 minutes at each house. The church will also host a free MarketPlace fair from 9:30 a.m. to 3:30 p.m., that will feature holiday items, unusual gifts, jewelry, home-made delicacies, lunch, vendors, tour tickets and a silent auction. There will be free admission and parking at the church. The events will be sponsored by the McLean Woman's Club.
Tour tickets will cost $25 until Dec. 1, when they will be $30. The tickets can be purchased at Mesmeralda's Gifts of McLean, 1339 Chain Bridge Road; Karin's Florist, 527 Maple Ave. East, Vienna; Great Dogs of Great Falls, 9859 Georgetown Pike; and at three locations in Arlington: Two the Moon, in the Williamsburg Center, 6501 North 29th Street; the Pink Palm, at 2871 Clarendon Blvd., and Covet, at 5140 Wilson Blvd. Tickets can also be bought at the MarketPlace on Dec. 1.
All proceeds of the events will be donated to local charities and nonprofits, including Alternative House, Fisher House, the Wounded Warrior program, Capital Caring, Share Inc., the McLean Project for the Arts and the McLean Volunteer Fire Department, as well as used for scholarships and education. Top sponsors of the tour and MarketPlace are Eagle Bank, Wydler Brothers Real Estate and Karen Duval.
Tour Houses
Each house is an elegant, spacious modern home on a half- to two-acre lot.
They will be decorated for the season in accordance with the owners' wishes, and Woman's Club members will serve as hostesses. For tour purposes, the homes are designated Houses 1 through 5.
House 1 (on Turkey Run Road, north off Georgetown Pike). Built in 2012, this two-story house has a beautiful brick-and-stone façade that is symmetrical overall but has varied gable heights and attractive flared eaves. Inside, a striking two-story foyer leads to a formal but comfortable living room and an office on the left and to a formal dining room on the right. Beyond are a window-lined family room, and a kitchen with built-in appliances and custom cabinetry. The house has five bedrooms and five baths (plus three half-baths). Downstairs are a covered porch, a patio and sitting areas in the back and a three-car garage. The basement houses a recreation area and a guest bedroom with full bath.
House 2 (on Mackall Avenue, north off Georgetown Pike). This two-story home reflects Colonial Revival architecture. In the front center is a pediment roof above a recessed entry porch with columns on each side. The symmetry continues to the roof, with dormers, a central cupola and matching chimneys on each end of the house. The rear façade has similarities to the front, and numerous large windows bring the landscape into the home. Colonial Revival design is also suggested through a center-hall plan with long, central hallways and a grand staircase. The house has five bedrooms, five baths, three half-baths, a family/great room, a dining room, a kitchen, a library, a full basement, and a large screened porch with a fireplace.
House 3 (on Swinks Mill Court, off Swinks Mill Road, south off Georgetown Pike). This impressive home welcomes the visitor with a wide slate walkway bordered by shrubs and leading to the custom front door. Inside, a bright, two-story foyer leads via a curved stairway to a balconied second floor. To the right, a living room with a generous fireplace provides a warm welcome. Directly across the hallway is a formal dining room. To the left is a huge kitchen space, with a breakfast area overlooking a rear garden. Built in 2001, House 3 has six bedrooms (plus three more in the basement), five baths (plus three half-baths), eight fireplaces, two garages with living space above (attached to the house with a breezeway), a two-story family room, a sunroom, a home theater, a garden, a party room, a steam room, sauna and weight room and a 900-square-foot swimming pool.
House 4 (on Calder Road, off Kurtz Road in central McLean). With its center-hall style, this home presents as a traditional Colonial but inside is a blend of Italian and French Renaissance and American architecture. It was built in 1951 and expanded in 1980. The previous owners maintained the original layout when they added a wing to enlarge the kitchen, created a great room and added more bedrooms. As you enter the house, on the right is a formal living room and on the left a small sitting room. Past the staircase is the great room, to the right the nautically themed Nantucket Room and to the left a small formal dining room. Behind is a large Italian kitchen with a breakfast bar and dining area. On the second level are bedrooms and baths for two, a large guest room and a master bedroom overlooking a beautifully landscaped yard. On the third level is a suite for the family's oldest daughter. The lower level is a recreation area.
House 5 (on Turkey Run Road, north off Georgetown Pike)
This 15,000-square-foot, custom-designed mansion is French Provincial in style. It is surrounded by national forest and was built three years ago with careful attention to every detail. The "grand portico" stone entry is composed of warm-toned masonry repeated around the fountain and paved courtyard. The iron scrollwork on the balconies recalls Parisian balcony design. The rear loggia, outdoor room with kitchen, stone pool and fountain contribute to the California flavor the owners envisioned.
The harmony in color and materials continues inside, and fine craftsmanship can be seen throughout. On entering, the formal living room on the left and formal dining room on the right are visible from the foyer. The limestone fireplaces face each other in symmetry. The elaborate plaster patterns in the ceiling and cornices depict acanthus leaves and classical details. The kitchen and family room are large, warm spaces with careful attention paid to the surface finishes. Fireplaces add to the cozy feeling. Six bedrooms, seven bathrooms, four half-baths, an artist's studio, a gym, a lower-level family room, a game room, a library, home offices, a billiard room and a wine cellar and tasking kitchen complete the facilities.
For more information on the tour and MarketPlace, call 703-556-0197 or visit www.mcleanwomansclub.org.