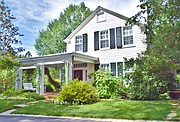 This year's Holiday Homes Tour, sponsored by the Woman's Club of McLean, will highlight a 6¼-acre estate in the Ballantrae Farm area and two large, elegant homes on Benjamin Street in Langley Forest. The tour, set for Thursday, Dec. 5, from 9:30 a.m. to 3:30 p.m., will be the club's 53rd and will support numerous local charities and nonprofits.
The Ballantrae Farm estate includes a three-story, Colonial Revival stone manor house built in 1925 and renovated and enlarged several times through 2014. The house has an above-grade living area of 9,700 square feet and a full basement. On the main floor are a great room, a billiard room convertible into a dining room seating 24, a living room, a library/office, and a farm-style kitchen. A magnificent white oak tree, estimated to be 250 to 300 years old, overhangs the home's front entrance, which leads to a gracious foyer. A beautifully appointed living room and adjacent spaces suggest the classic elegance of yesteryear.
The grounds are extensively landscaped, with stone patios, decorative plantings, perennial beds, and paved walks. There are a swimming pool, a tennis court, a soccer field, and even a large tree house within a grove of spruce trees.
Also on the grounds is the restored original farmhouse, called "Little Ballantrae," which had been on the site of the manor house and dates to the mid-19th century. The hand-hewn timbers, wood spikes, and nails typical of the period are still visible in some of the rafters and floor joists. In 1922 the house was moved down a slight hill to its present location, and in the early 1990s its grounds were purchased and reunited with those of the manor house. Little Ballantrae was renovated in 1996 and again in 2018. It currently has four bedrooms and a kitchen and is used as a guest house.
A long, gated driveway connects the estate to Ballantrae Farm Drive. Visitors may either park on the street or take free vans available at Trinity United Methodist Church, in McLean.
The tour houses on Benjamin Street were built in 2009 and 2010, respectively. They are on lots of about one acre each and display two architectural styles: relatively traditional and north European contemporary. The "traditional" home exemplifies "casual elegance with a nod to traditional southern living," according to the owner. It has 10-foot ceilings and many designer touches. A spacious basement is used for sports activities and has a fifth bedroom and full bath. The home's area is 5,300 square feet, and the yard's landscaping certifies it as a National Wildlife Sanctuary.

The more "modern" home has an open floor plan and large, uncurtained windows for maximum light. Interior walls on the main floor have been mostly omitted, but dining and living areas are well-defined by shape and furnishings. The house area is 8,500 square feet, and the roomy basement contains a recreation room and a mini-soccer court. Behind the home are large patios, a swimming pool, a garden house, and a dining cabana. A three-car garage is attached to the home. The house is unusual in being equipped for geothermal heating.
During the Homes Tour, a "Mini-Marketplace" offering lunch, gift and bakery items, tour tickets, and free vans to the Ballantrae Farm area will be set up at Trinity Church. Tour tickets, $30 before Dec. 5 and $35 on that day, will also be available at Mesmeralda's Gifts of McLean, Karin's Florist, of Vienna, and Great Dogs of Great Falls and be obtainable via credit cards/PayPal on the club's website, www.mcleanwomansclub.org.