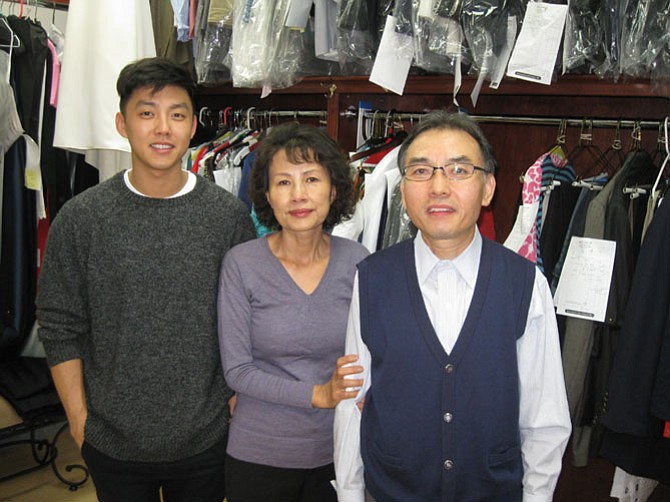 David Deuk Kim, 59, of Kim's Tailoring started to get chest pains on Aug. 23, 2016. He had been very healthy up to that point, having medical checkups every two years that came up fine. Longevity had run in his family -- his father lived to be 92; two uncles lived to be 94 and 93 -- so he didn't think there was a problem. The only warning was that his cholesterol was 140. He had been working in his store in the Great Falls Center Shopping Center on Georgetown Pike, and around 9:30 a.m., he walked over to Ace Medical Care across the street to see what the problem was.
The doctor informed him that he just had a heart attack, gave him medication right away, and called an ambulance. So he was whisked away to Reston Hospital where they checked on him but said they couldn't open his chest. The next morning at 6 a.m., he went to Fairfax Hospital where the surgeon Dr. Eric Sarin performed a quadruple bypass. The surgery was a success; the only problem was that Kim did not have any medical insurance. And the cost for the procedure can run anywhere between $70,000-$200,000 depending on the hospital.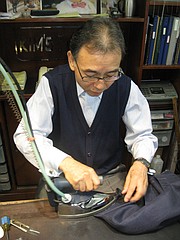 KIM, who is originally from Korea, is a beloved tailor in Great Falls who specializes in men's and women's alterations. Some 24 years ago, he and his wife Soon Kim, 57, set up shop; they originally made clothing by hand, but have since focused on alterations. He says the work is very seasonal: it's busy in the spring and fall, but slow in the summer and winter. When Kim came to this country in 1988, he did not speak any English. He took classes through Fairfax County Public Schools on the weekends to become more fluent. The couple has two children: son Philip and daughter Sue Kim Hong, both of Orange County, Calif.
Now the Great Falls community is banding together to help Kim with his medical expenses. In a few short weeks, 174 people have contributed $20,661 (as of Saturday). And since his hospital stay, he has received 75 cards, 26 bouquets of flowers, and hundreds of digital notes from the community.
So how does he feel about the outpouring of support? "Wow. Amazing; what can I say? I'm really, really happy about it. I really appreciate the Great Falls community... So many people have called and have prayed for us," said Kim from his tailoring shop. "My wife and I we were crying a few days ago."
"It's something that we never expected. I mean, personally I had no idea that my dad had this huge impression on the community," said son Philip, who is visiting from California. "I was speechless. To this point, there's no way I can put into words how grateful our entire family is. We're trying to figure out what we can do to give back to the community."
Philip said his dad's tailoring business tends to coincide with big milestones in the lives of Great Falls residents: homecomings and marriages, prom gowns, tuxedos, and wedding gowns. Philip has postponed his life for three months to be with his parents; he plans on returning home on Dec. 1. He said his family has even received care packages and instructional videos from the community on how to help his dad get better.
Karen Peterson, 53, of Great Falls, who helped organize a fundraising campaign for Kim, said the response from the community has been overwhelming thus far. "I think it's the recognition that Mr. Kim is an institution in Great Falls and the community wanting to do something to help. The community wanted to take care of one of its own.... It's wonderful to help such a deserving family."
She added: "Even people who have moved out of the community have contributed; they still feel part of the community. They still have an allegiance to Mr. Kim."
Peterson said it was her neighbors in Great Falls who brought up the idea to help Kim; she just happened to know the technology on how to get him connected onto Facebook and the Nextdoor Portal. They didn't put out any flyers. They are using the fundraising website called youcaring.com. To contribute to Kim's cause, the URL is https://www.youcaring.com/david-kim-653875. Already, individuals have contributed $100 here, $250 there, even $500, with many hidden amounts not listed. The total gross is above $20,000 thus far.
PETERSON said an anonymous attorney is helping with the negotiations on Kim's medical bills, and another influential person in the community who has connections with INOVA's Board is asking for a reduction in his bills as a special circumstance. Kim said he is sorry about not having health insurance; but he plans on getting new insurance on Nov. 1. For now, he is working part-time while he's recuperating; he plans to go back to work full-time on Oct. 17.
Julianne Benson, a former Great Falls resident for 21 years who moved to Brambleton in Ashburn, stopped by the shop with a card and $100 cash while we were conducting the interview. She had been using Kim's business, whom she calls the "salt of the earth," for over 20 years. "I've been thinking about you and praying for you," she said. "You're a light in our community and I just want to thank you so much... I love supporting our local businesses. The Kims are phenomenal. I'll continue to hold you close in prayer."
Kim's Tailoring is located at 9887 Georgetown Pike in the Great Falls Center Shopping Center. The phone number is 703-757-3355.