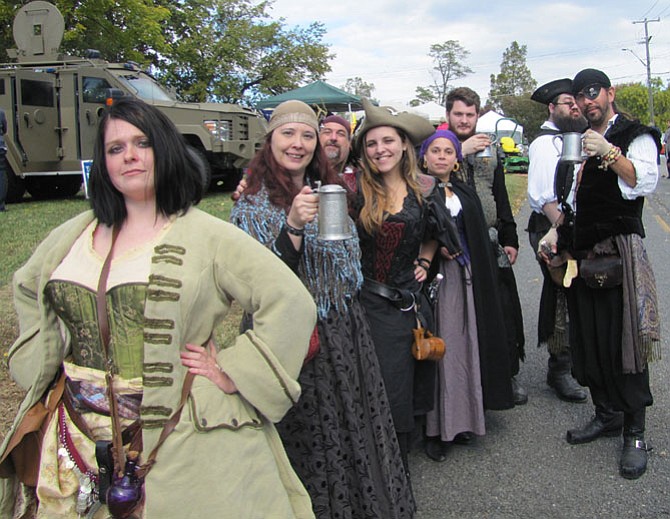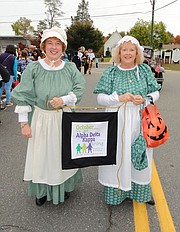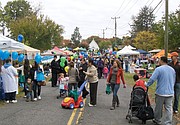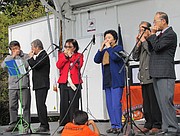 A fusion of community camaraderie, history and fun for all ages, the 24th annual Centreville Day celebration is this Saturday, Oct. 15, from 10 a.m.-5 p.m., in Historic Centreville Park, 5714 Mount Gilead Road (off Braddock Road, across Route 29 from the IHOP).
The theme is "Celebrating Centreville Community," and the free event includes a parade, live entertainment, children's rides and activities, food, trick-or-treating, a pet pageant, historic homes, crafts and a community marketplace.
Opening ceremonies are at 10 a.m. at the main stage near St. John's Episcopal Church. Each year, the Centreville Day Planning Committee recognizes individuals or organizations making a difference in Centreville. This year's awards, presented by Supervisor Kathy Smith (D-Sully), go to Yom Chu Kim, Citizen of the Year, and Our Neighbor's Child (ONC), Nonprofit Citizen of the Year.

"Kim has been described as a 'tireless advocate for diversity' within the Centreville community," said Centreville Day organizer Cheryl Repetti, "If there's a community meeting in Centreville, he's likely to be there." He's active in the Centreville Immigration Forum, the Centreville Day Planning Committee, in his Virginia Run community and especially in the Korean Central Presbyterian Church.
A Korean War veteran, he fought with America's ally, South Korea. And he received a Community Champion award from Volunteer Fairfax in 2013 for his contributions to improving life in Fairfax County.
ONC was founded in 1992, when a few friends gathered together to help fulfill the Christmas wishes of a dozen or so children in Centreville. "As western Fairfax County grew, so did ONC; and today, 400 volunteers provide new toys and clothing to more than 2,000 local children in need," said Repetti. "ONC is widely recognized for harnessing the generous spirit of the Centreville community."
Entertainment, Parade
Live entertainment begins at the stage at 10:45 a.m. with singers Pirates for Sail, followed at noon by the Va Deatles, Stone Middle teachers singing rock music. Next are: 1:10 p.m., Powerworx dancers; 1:30 p.m., Fairfax Choral Society Youth Choir; and 1:50 p.m., Hallelujah Tae Kwon Do.
Then at 2:15 p.m. will be the Korean Senior Center harmonica players; 2:40 p.m., Cub Run Elementary dancers; 3:30 p.m., Northern Virginia Wushu Academy; and 4 p.m., Harmony Road Players perform instrumental selections.
American Legion Post 1995 organizes the parade. Participants include Chantilly High's Air Force JROTC Color Guard, KinderCare Learning Center, the Fairfax Choral Society, Junior Girl Scout Troop 2731, Cub Scout Pack 2525, Daisy-Brownie Troop 1324 and Centreville Day youth volunteers from Stone Middle School, Station 17 fire engines and the county Sheriff's Office. The Fairfax County Animal Shelter will march with animals needing a home. Anyone can join — even children with decorated bikes and scooters — and costumes are encouraged.
The parade kicks off at Wharton Lane at 11 a.m., passing the stage shortly before noon and continuing along Mt. Gilead Road to Braddock Road. Prizes of $50 will be awarded to the Most Enthusiastic and Most Patriotic groups. To register in advance or be considered for an award, go to www.CentrevilleDay.org. For questions, contact Steve Hunter at geoshunter@gmail.com.
Lots of free, children's activities are planned, such as costumed trick-or-treating through the community marketplace. There'll also be a climbing wall, slide and History Train rides, plus face-painting, tug-of-war and sack races.
Children may also enjoy hands-on history on Mount Gilead's lawn where Sully Historic Site volunteers will help them dip candles, write with a quill pen and make simple toys to take home. Also there will be the Swordsmen of the 18th Century. Centreville's Charlie and John Anderson will demonstrate their swashbuckling skills and share their knowledge with the crowd. And living historians Pirates for Sail will be camped on the lawn, too.
Two special events are planned for pets of all kinds. At 3 p.m. on the stage, the Centreville-Chantilly Rotary Club is sponsoring a Pet Pageant. Registration is free; enter at the Centreville Day website. No special talents or tricks are needed. Families may bring more than one pet, and prizes will be awarded in various categories. Former Sully District Supervisor Michael Frey will be the judge. For more information, contact Cammy Gawlak at cgawlak@verizon.net.
In addition, the Rev. Carol Hancock will be blessing pets throughout the day at the St. John's tent on the church lawn. Hot coffee and baked goods will be available and the church and grounds will be open for tours.
History, Food, Parking
Several other historic buildings will also welcome the public. Historian Allison Hartley will lead tours of the Spindle Sears House, and Mount Gilead will offer guided tours, plus cookies and tea on the home's porch. Mount Gilead is one of the stops for the Fairfax County Park Authority's History Train, driven from the Sully Historic Site by Matt McNeal.
Visitors are encouraged to exit the train at the Braddock Road stop and stroll downhill to explore the Old Stone Church – the Church of the Ascension – for a tour and to meet living-history performer Dean Howarth. Also there will be more baked goods, plus a ploughman's lunch of cheese, bread and fruit for sale. And the nearby Havener House and Stuart-Mosby Civil War Cavalry Museum will be open for tours, as well.
At the food court, Smokes Barbecue will offer pulled pork, ribs, Italian sausage burgers and smoked chicken. Danibell's Lite and Sweet food truck will bring Lebanese foods including falafel, shawarma, tabbouleh and lentil soup. And Bonefish Grill will offer menu favorites. The Tree of Life Bible Church will have a bake sale, Irongate Bakery will offer baked goods at Mount Gilead and the MertoBark Bakery booth will have treats for pets.
New this year is the election of the official Centreville Village Fool. "At 1 p.m. on the main stage, Johnny Anderson will present a stirring political speech to convince voters that he's qualified to be Village Fool and wear the badge of office – a badge he already bought for himself," said Repetti. "If you appreciate lighthearted political satire, come to Centreville Day and cast your ballot."
Free parking and shuttles will be available at The Trinity Centre, 5860 Trinity Parkway, off Route 29. Centreville Day is organized by the nonprofit Friends of Historic Centreville, in partnership with the Park Authority. For more information, follow "Mrs. Spindle" at www.CentrevilleDay.org.