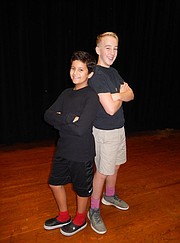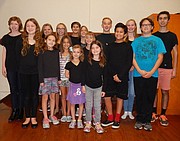 Centreville — When 10-year-old James loses his parents, he has to live with his two mean aunts. But things get better when he discovers a magic potion that grows a gigantic peach. James then befriends a collection of singing insects that ride the peach on an adventurous journey across the ocean.
That's the premise of author Roald Dahl's "James and the Giant Peach Jr.," Alliance Theatre's upcoming musical about courage and self-discovery. Featuring a cast and crew of 35, it'll be presented Nov. 5-20, at Mountain View High in Centreville.
All the actors are in grades three through 12, and Director Maggie Swan says they're all talented thespians, singers and dancers. "Those playing insects even had to study the insects they're portraying and put their characteristics into their roles," she said. "For example, the worm doesn't like to be touched and the grasshopper makes a clicking noise, even though their characters have human attributes."
"We're using costume pieces and hats, more than makeup, to show who they are," she continued. "So the grasshopper wears a green tuxedo and the ladybug wears a pillbox hat. The characters are so cute and fun that everyone will love them."
A magical narrator will help tell the story and make things happen. And, said Swan, "The set's going to be really cool. It was designed by D. Scott Graham and built by the crew and parents, and Leslie Ross is painting it. There'll be a huge peach that's really a jungle gym with different levels. And it'll be like looking inside a peach."
Swan said the audience will like "all the quirky characters, plus the story about how James finds a whole, new life and family in some unusual ways. People of all ages will be able to relate to this show."
Portraying James is Noah Tajudeen, 11. "He's very lonely, but naïve," said Noah. "He's curious about things, but also sentimental because his parents passed away without saying goodbye to him. But as the story progresses, he gets more adventurous and confident and makes lots of new friends."
Noah likes his role because, he said, "In real life, I can be loud and rambunctious, but James is shyer. He has a lot of growth in this story and goes through many changes, including heartbreak, which I find interesting to play and explore. And it's exciting having the lead role — that's pretty cool."
His favorite song is "On Your Way Home," which he sings at the beginning. "James is wanting to go home and wishing his parents were still alive," said Noah. "He's sad because he doesn't have any family and wants someone to love him." Overall, though, he said, "This show is so incredibly funny and all the characters each have hilarious lines that will make the audience laugh. It also has a sweet message that family and love are the most important things."
High-schooler Noelle Buice plays a ladybug. "She's very maternal, sweet and loving and turns the group of insects into a family," said Buice. "She also steps in to become James's 'mother' after his parents die."
Buice loves her character because, she said, "I'm always looking out for my own friends. And she's so kind and considerate of everyone, and helps settle conflicts, that I feel like I can relate to her. She also wants everything perfect and in order; otherwise, she gets anxious."
She says audiences "will love the show's whimsy. It's funny, but with an underlying message of caring and acceptance and that everyone can find their true family."
Portraying James's Aunt Spiker is high-schooler Dayna Balough. "She's a really nasty person," said Balough. "She thinks very highly of herself and only takes James in so he can do all the chores for her. His other aunt, Sponge, lives with them, and both aunts try to get him involved in pickpocketing with them."
It's Balough's first time playing a villain and she's having a great time. "You can be as mean as you want onstage," she said. "And I get to shriek and make random noises." She said the audience will like "going on this great adventure with James, as well as the variety of the characters' different personalities. And the music is lively and upbeat, with some sad songs, too."
Franklin Middle seventh-grader Tim Gustafson plays several characters in the ensemble — James's father, a police officer, a seagull, a New Yorker and Buzz, a Hollywood agent. "Buzz is demanding, full of himself and likes to get things done," said Tim. "I have fun playing him."
Tim likes the number, "Property of Spiker and Sponge," sung by the aunts, vagrants and the police. "It's a catchy song that you can sing for days," he said. All in all, said Tim, "People will like the show's creative costumes and energetic songs. And they're going to love the story — it's amazing."
To Go:
Show times are: Nov. 5, 6, 12, 13, 19, 20 at 2 p.m., and Nov. 18 at 7:30 p.m., at Mountain View High School, 5775 Spindle Lane (off Braddock Road) in Centreville. For ticket prices and other information, go to www.thealliancetheatre.org.