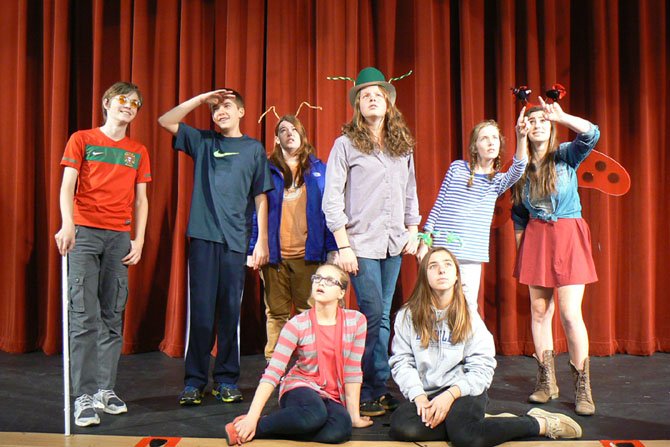 Middle School students at The Langley School will present Roald Dahl's fantasy adventure, "James and the Giant Peach," in three evening performances Nov. 21-23 in the school's Sherman Arts Center.
Published in 1961 as one of Roald Dahl's earliest children's books, "James and the Giant Peach" chronicles the adventures of 9-year-old orphan James Henry Trotter who lives an unhappy life with his two greedy aunts in England. When a once barren peach tree in his yard magically produces a humongous peach, James discovers a group of friendly insects living inside. Using the peach as their mode of transportation, he and his new friends experience amazing adventures which lead them to a new life in America.
The show includes 50 participants in grades 6-8, including cast and crew, student leaders, and pit orchestra members. This is a student-run production, so students are involved in all aspects of the play, serving as actors on stage, assisting with sound and lighting, overseeing the action as student directors, working on props, makeup, or hair, and assisting with scene changes and backstage operations.
In addition to including some unique special effects, the performance uses a "thrust" stage which provides an acting space in front of the stage on the floor. This setup not only allows for a more creative seating arrangement with seats on three sides of the stage, but also helps Langley's student actors learn more creative ways of positioning themselves on stage. Also new this year, each student will be involved in constructing his or her own costume, with several rehearsals devoted to costume creation.
Tickets may be purchased online at www.langleyschool.org for $8 each.
Founded in 1942, The Langley School is an independent coed day school for students in preschool through eighth grade. Located on a 9.2-acre campus in McLean, the school reaches across multiple disciplines to discover, amplify, and embrace the talents of every child, every day.