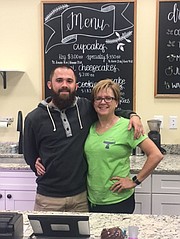 Centreville — Longtime Fairfax resident Kimberly McDonald is proof that there is more than one way to forge a path toward success. In October, McDonald celebrated the six-month storefront anniversary of her full-service, award-winning bakery, Simply Desserts. To mark the occasion, Simply Desserts sold its cupcakes at half-price all day on Saturday, Oct. 15, six months to the date of the store's opening in Gainesville's Virginia Gateway Promenade shopping center.
While Simply Desserts is relatively new as a storefront success, McDonald has been running her own dessert business for more than nine years, starting with cheesecakes and ultimately expanding to custom and wedding cakes that have won multiple industry awards.
"I've always loved the food and restaurant industry," McDonald said. "I always loved to bake and create cakes for my children growing up. When my youngest was in her last year of high school, I wondered what I might do with my time with all my children out of the house. My very good friend suggested I start the business I dreamed of doing."
McDonald first realized she had a knack for baking years ago when she entered one of her masterpieces into a cheesecake contest at Chantilly's Greenbriar West Elementary School, where her two sons and daughter all attended through sixth grade. As the years went on, that annual baked goods event became a cheesecake showdown between McDonald and her neighbor.
"I started the business selling cheesecakes," McDonald said. "It was something I had learned to do while working as a catering manager in a prior job. Soon after, my nephew asked me to create his wedding cake. From there, I was asked to do other creations."
As she tackled more baked good challenges, she also learned more about the business side of baking as a catering manager for a local company.
The business, originally called To a Tea LLC, started in the kitchen of McDonald's Fairfax home. By 2012, McDonald and her then three-person staff had expanded their offering to elaborately decorated, personalized cakes for weddings, birthday parties and all special occasions.
McDonald has worn many hats, and attributes her entrepreneurial triumphs to every single one of her puzzle pieces that make up her life experience. She served nine years in the United States Air Force, and left the service to raise three children — all of whom graduated from Chantilly High School.
"A lot of my business experience came from my time in the Air Force and other jobs I've had since," McDonald said. "I was in the Air Force for what I thought would be a 20-year career when I had my first child, Matthew. I then decided to stay at home and work various jobs part time. When I started the home-based business, I realized after a couple of years that I needed to remodel the kitchen to accommodate more ovens and refrigerators. Then, a few years after that, I realized I wanted and need to take the next step and look for a store front. Also — I wanted my house back."
While McDonald said there are advantages to a home business, citing the lack of commute or need to "dress up," McDonald knew it was time for the transition when Simply Desserts simply outgrew her kitchen, even with its renovations.
"The disadvantages were conducting consultations in the home on weekends when more activity was going on in the house," she said. "Although my youngest, my daughter, Kellie, had left for college, my two older sons returned home to live. Plus, I have three dogs and it required effort to keep them separate from the kitchen, and the barking was still annoying anytime someone came to the house. When the business really took off in 2010, I needed to hire decorators and expand into other rooms of the house. I knew I needed to make that elusive jump to a storefront, something I dreamed of having since making my first cake."
McDonald said the support of her family has been integral, especially from her husband, who has watched her evolve into a full-fledged businessperson.
"Everyone has been extremely supportive," McDonald said. "I think after a couple years, my husband was very surprised I was turning a profit. He started out treating my business as a hobby that kept me busy. He's turned that thought around and is my biggest supporter."
She brought her son, Alex, into the store as a full-time team member, who is responsible for the store aesthetic and manages the front of the store.
"Having a painting business of my own, I had the ability to take time and help her as she launched the storefront," said Alex McDonald, a professional artist.
"I told her I would not cross the door into the kitchen, but that I would do everything she needs done outside of that," he said. "If you were to put my role on a piece of paper, it's whatever the boss asks me to do. The list is endless: customer service, taking orders, operating the register. I open, I close, and I do social media and all the artwork. My mom wants the whole business to look like a home, because all of her customers over the last 10 years know her as a business out of her kitchen."
Working at Simply Desserts full-time has given Alex McDonald the opportunity to watch his mother grow in a different realm and realize her potential.
"Now that I've learned so much myself, and watched her progress, I see firsthand that she is so much more of her business owner than a baker," he said. "Her quality of work has always been amazing, but she didn't have so many moving parts and logistics to coordinate when she was at the house. She's dealing with all these other people, and I've seen my mom adopt a new, different type of professionalism."
Recently, the wedding website "The Knot" recognized Simply Desserts with its Weddings Hall of Fame Award. Other names in the industry have done the same, and awards from the past few years decorate the walls of the store.
Among the changes over the past couple of years, McDonald now has 10 employees to help with the continuing increase in demand. One of McDonald's goals was to continue with the actual craft instead of shifting into a full-time management role. Unfortunately, though, this means that she often works what her son calls "100-hour weeks."
"For anyone thinking about pursuing their passion this way, I would say, 'be confident, believe in yourself, and surround yourself with people who believe in you,'" Kimberly McDonald said. "Find someone who has a small business that can provide you with advice."