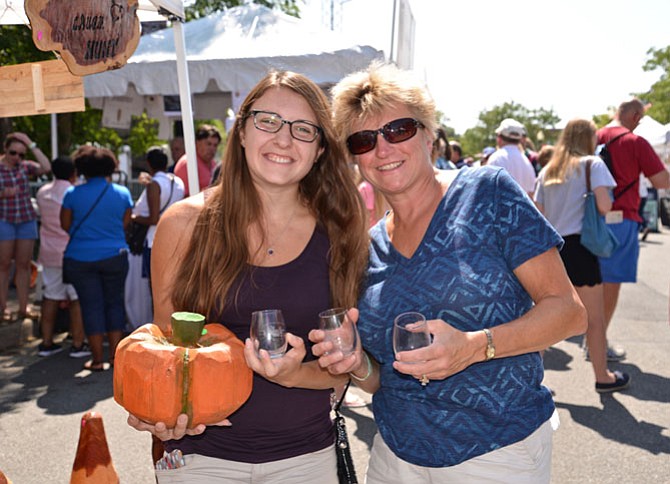 The sponsors, vendors, performers and the army of volunteers who produced the 2016 Herndon Labor Day Festival no doubt worked up a sweat during the 11 a.m. – 5 p.m. event, but for the festival goers it wasn't hard work to have a lot of fun.
Children had plenty of room to run and yummy treats to enjoy, but it was the older, young-at-heart crowd that had their whims catered to with rows of wine tasting booths and craft beers to try out. "Yeah, I never miss this festival," said Peter Tate of Ashburn. "This one seems to be for us. Even the music is stuff I actually know and like!"
With a bit of Bluegrass and Americana thrown in, the musical offerings were mostly classic rock and pop. "Songs you can sing along with," enthused Tate, doing just that while listening to Houk Robinson – Steve Houk and Jess Robinson when not on stage – play a variety of 70s and 80s hits in the Music Tent just inside the south entrance to the festival. The duo did have them singing and tapping to the beats, while later, on center stage, groups like the 60s/70s Brit Pop/Rock band English Channel drew a crowd that added dancing to their enjoyment.
The main avenue was the place to wander for culinary temptations. The Tender Rib, the Big Cheese, Rito Loco Food Truck, Island Smoothies, and Pollo Campero offered plenty of choices, just before the wine tasting section began in earnest. Eight different Virginia wineries were there to pour samples and talk about their winemaking adventures. A lot of the tasters seemed particularly delighted to actually be served by the winemakers themselves - Gina Whelan of Herndon included, as she listed to Cardamon Family Vineyards owner/winemaker Chuck Cardamon engage the crowd around their booth. "The wine is really good," she approved, "the winemaker is really great! Really fun to listen to him."
If beer was more to your taste than wine, never fear. Blue Mountain Brewery, Devils Backbone Brewing Company, Forge Brew Works, Mad Fox Brewery, and South Street Brewery were all on hand to cater to that liquid liking, as well. And throughout, the music kept playing.
Craft vendors were also well represented and seemed to be doing a brisk business with the festival attendees. Vendors Rachel Boone and Todd Suits from Culpeper were first timers at the festival, selling handmade crafts, woodworks, and chainsaw carvings. The pair were pleased with the response to their goods. "We're working, and having a good time," said Suits. There were plenty of other art objects, crafts and services to make for happy wandering, with tacos or wine glasses in hand.
The Town of Herndon Department of Parks and Recreation and the Herndon Woman's Club highlight the many sponsors of the event, as well as spearheading the volunteers who kept the whole thing going smoothly.
Great weather. Great event. Sigh. Now it's back to work.