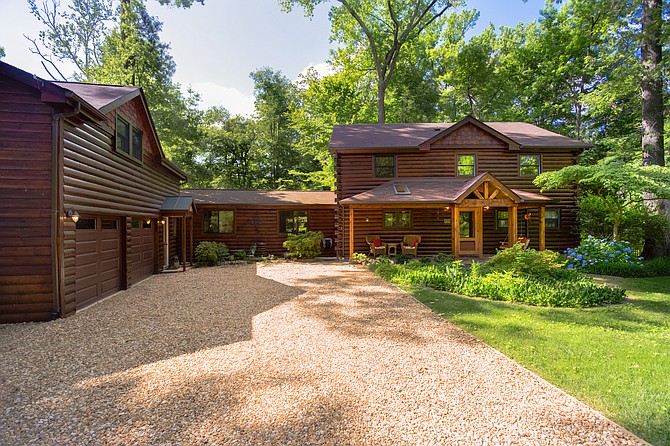 Blissful retirement often validates the old homily: "Busy hands mean happy hearts."
On this point, it is hard to imagine a more fruitful environment than the home of Kirby and Helen Thornton, two 70-something retirees who recently completed focused renovations to a log cabin style home in Lorton they have occupied for more than 20 years.
The changes were all about tweaking to even higher relevance aspects of the home that had gradually become a sources of distinctively personal satisfaction to both seniors.
Kirby Thornton, a former electrical engineer, has been exploring his passion for woodworking for many years. Helen Thornton, a one time research analyst, revels in creating shimmering objets d'arte from fused glass. When not pursuing their hobbies, the couple might otherwise be found taking in the scenery from the wide, rustic-style front porch that now graces the home's front elevation.
For all the quiet simplicity that abounds in every direction though, the Thornton's lifestyle accommodation has been decades in the making, beginning with purchasing the 2,900 sq foot house and garage in the late 1990s.
"We were attracted to the relaxed ambiance of a log home," Kirby Thornton said. "There were changes we wanted to make from the first, but since we were both busy, modifications would have to occur in phases."
The first step was acquiring more storage space.
As Kirby Thornton tells it, the couple hired Foster Remodeling Solutions of Lorton to remove an unneeded balcony, add a floor above the open garage and apportion the space for storage and other uses to be determined.
Soon Kirby Thornton decided that the windowless garage loft would work fine as a place to take up woodworking. He had actually purchased a lathe from the home's previous owner. Helen Thornton, seeing the loft's potentials as a studio, acquired a kiln and began fusing glass.
The pursuit of one's muse being all-absorbing, the pair spent little time worrying about the fact that the workspace provided zero natural light, or that it was hard to stand erect under the four foot high ceiling that dominated much of the floorspace.
About the only change to the physical space in this interval was the introduction of a partition designed to keep wood dust on Kirby Thornton's side of the studio.
Even so, as full retirement dawned, both saw there was now time to reconsider the larger "wish list" of remodeling preferences.
"We knew we would have to change the studio roof line to get the head room and natural light we wanted," Kirby Thornton said. "About this time, Helen was looking into front porch ideas in log home magazines. We sketched out several designs of what we thought we wanted. That's when we called Foster Remodeling back in."
But the first surprise inspired another pause: Turned out the front porch seen as spanning the entire front elevation couldn't be built because of its proximity to a part of the home's septic system.
"The symmetry, the curb appeal, was important to us," Helen Thornton said. "We wanted a balanced facade on both the house and the garage. We were kind of at a loss." Fortunately, Foster's team led by Chris Arnold came up with an innovative solution.
Foster's architectural concept call for a faux peak on the main house at exactly the same pitch as the one above the garage which is, in turn, reinforced by the peak of a front-facing archway that defines the ground-level entrance to the porch.
A porch swing occupying the far corner now fleshes-out the portrait of a restful carefree idyll amidst flowers and trees. For an expanded view, there's a large Velux skylight overhead.
Underfoot, a flagstone patio lends color and texture, a natural tonal complement to the dark-stained log siding. Kirby Thornton says the couple selected the color palates at a nearby stone yard over several days, and played with combinations until they found what they wanted.
Rough-hewn timbers, the handiwork of Foster master carpenter Mike Borman, is integral to the aesthetics of a new front elevation that is both inviting and whimsical. Red cedar trim and molding, meanwhile, provide sympathetic color accents.
To fashion studio space useful to all, Foster found a way to elevate the headroom to fully six feet, freeing up all 770 square feet of floorspace. A front-facing dormer featuring a pair of double hung windows invites generous southerly light. Kirby's wood shop — equipped with a lathe, a drill press and table saw — is tucked snugly behind a new partition. Helen Thornton uses two kilns to produce her work.
Matching the logs needed to "pop up" the second level also entailed a close examination of existing details.
"We spent quite a while researching options with various vendors, which is a challenge when you're working with a 30-year-old exterior," said project manager Chris Arnold.
Summarizing the well-planned lifestyle shift, Kirby Thornton says the couple are frequently in the studio at the same time.
A window in the interior partition allows each spouse to witness the other's progress, if so inclined. It's a working environment, but also a place of interaction and play.
The distinctive by-products of the Thornton's labors are mostly donated to friends, children and grandchildren. Kirby Thornton is keen on picture frames and book cases; Helen Thornton recently completed a glass bird bath.
"This is a very sweet place to be spending this time in our lives," Kirby Thornton said. "Perfect in fact."
Foster Remodeling Solutions will be holding an open house in its expanded design and selection center Saturday, April 22 from 10 a.m. to 5 p.m. There will be three seminars. A workshop on Aging-In-Place will be held at 1 p.m. The design center is located at 7211-H Telegraph Square Drive, Lorton, VA 22079. To RSVP call: 703/550-1371, or contact us at www.fosterremodeling.com
John Byrd (byrdmatx@gmaill.com) has been writing about home improvement for 30 years.